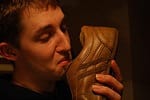 Today's reader mail comes from a reader with a serious problem…
I happened to see my mother at lunchtime today and when I walked over to her, she had a strong reaction – she said I smelled! I had just come from work and was going back to work, so I was obviously very upset. When I inquired a little further, she said that I actually have a body odor issue, apparently on a somewhat regular basis. I was shocked. First because I truly had no idea; second because neither my mother nor sisters nor other close friends have ever given me any indication I had a problem. Now I've moved on to mortification. I'm reliving every moment of my professional and professional life and wondering if I'm thought of as the stinky girl.

I realize that I need to take steps like finding a stronger deodorant-antiperspirant (I thought my old one worked fine), dry clean my suits more frequently (I used to do it once every few months), etc. But is there anything I can do to address the negative impact this must have had on my image – professional and otherwise?

To give a little more background info: I'm nearly 32 years old and have been working in my current job for a little over a year. I just received a very decent raise at my review. I'm also happily married to a man who has never mentioned that I have any body odor issues. At the same time, I don't doubt my mother's word…we're close and she's said she's hesitated telling me for quite some time. (I wish she'd told me sooner!)

I have vowed I will never be smelly again. Do you or your readers have any other advice for damage control?
Wowza — we're sorry to hear this. We've already talked about antiperspirant and deodorants here (with tons of great recommendations from readers in the comments). In terms of other tips — we would guess that drycleaning once every few months is fine, so long as you're wearing decent layers beneath the suit.  For example, if perspiration is a problem, don't wear sleeveless shells — wear t-shirts or other pieces with sleeves.  We hate to say it, but you may also want to reconsider your underwear and your drycleaning situation — skimpier underwear might necessitate more frequent cleanings.  (We had a lot of good comments on specific brands of boy shorts on this post.)
In terms of other things that might be causing odor — if you can, give your shoes a "day off" in order to air out — there are also odor-eating things that can be placed in shoes.  If you wear sweaters or other pieces multiple times before washing, keep those clothes in a different spot than "clean clothes." (For example, I try to wear sweaters at least twice in order to prolong the life of the sweater; I have a separate place where I keep those sweaters after I've worn them.)  You may want to consider putting a dryer sheet or two, or cedar balls, in that spot.
Finally: you may want to see a doctor — we've heard of instances where a body odor issue could be medically related.
Now, in terms of damage control — for our $.02,  do not say anything to folks.  First, it sounds like it hasn't been a hindrance in your advancement (you got a new job in the midst of a recession, you just got a raise).  Second, what would you say?*  Just make the problem disappear and things should be good.   Readers, what say you?
Pictured:  196/365 Need new shoes, originally uploaded to Flickr by stuartpilbrow.
* This author's personal backstory here is that I did a great job of screwing up my eyes a while back.  Allergies, dry office air, and overuse of contacts (paired with typical office blunders like staring at a monitor without blinking enough, working for really long hours, and so forth) — I had basically been exfoliating my corneas.  After I finally got on a good treatment course there was a serious concern about what, if anything, I should say to superiors I worked with.  After all, my eyes had been bloodshot for months — what if they thought I was on drugs, or that I was in my office crying all day?  My father and other friends pleaded with me to not say anything, and, ultimately, I didn't.  Looking back, I'm convinced that was the right call for my situation.