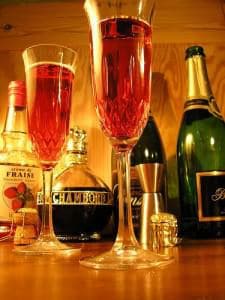 2018 Update: We still think this is a great discussion on day to night transitions — you may also want to check out our recent post on what to avoid in "desk to dinner" dresses.
About a week ago we asked you how you handled the much-talked-about day-to-night transition — do you change outfits entirely? change elements of your outfit to make it less business and more fun? Pictured.
The poll is still open, but here's how it's looking thus far:
33% of you maintain elements of the same outfit, but change to denim or a more dressy skirt if you're going out on the town
30% of you wear totally different clothes than what you wore to work
21% of you scoff at the idea of being able to get out of the office to enjoy a night out on the town. (Our unsolicited advice:

C'mon, guys, you can do it! Youth is fleeting — and you can sleep when you're dead.

)
14% of you wear the exact outfit that you purchased thinking it would be a good day-to-night transition.
Since the majority of you wear elements of the same outfit, we couldn't resist recommending this top and these shoes — wear the Velvet Leaf Dylan Blouse Cut Out Sleeves in Royal Blue (available at Revolve Clothing for $105) with a regular black suit with a pencil skirt and pumps, and before you leave the outfit, ditch the jacket and change into more trendy shoes such as these Nine West – Dasolina (Dark Purple Suede) (available from Zappos for $99).