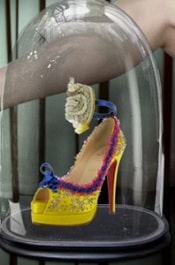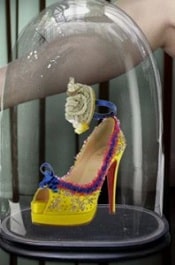 About a week and a half ago, we asked a pivotal question: at what point does a high heel become TOO high for work? As always, the poll is still open, but the initial results are in:
– 44% of readers said a medium heel height was most appropriate for work — 3.5″ being the absolute highest.
– 33% said 3.5″ or higher was acceptable, so long as the shoe itself was appropriate for work — nothing a teenager would wear.
– 12% said any heel height was fine, so long as you could walk in it
– 9% said low heels were the only ones appropriate for the office: 2.5″ or under.
Pictured above: Christian Louboutin's Marie Antoinette shoe, available only in Paris boutiques. Commenters repeatedly stressed that the heel had to be in proportion to the outfit: the higher the heel, the lower the hemline of the skirt — if not wearing pants with your towering heels. Some noted that they only wore 4″ heels with pants. Proper hemming is very important here: your pants should almost entirely cover the heel. (We would argue that readers should trek to and from work in the same height of heel that they wear at the office, but for those who don't agree with us there are gadgets to help you hem your pants temporarily, such as Zakkerz, pictured below.)

There was general agreement that platforms are not acceptable office shoes; wedges were also not popular with readers. (We would disagree with that and say it depends on the kind of wedge — the chunkier the wedge, the more inappropriate it is — but a triangular-shaped wedge that blends with the shoe would be all right with us. For example, something like the Nine West – Tuffy (Brown) – Footwear, pictured at right (available at Zappos.com for $78.95.)
Above all, though, readers noted that the shoe itself should be tasteful. As one commented, "never, ever wear clear heels to work. Never." Another suggested readers not purchase their heels at the Hustler store. (Or perhaps, just save those Hustler shoes for the, uh, weekend.)
(Check out our guide to comfortable heels if you're looking for more tips!)