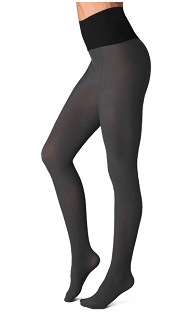 Today's reader mail comes with a ton more of questions about interviewing…
I'm a 3L and have an interview next week with a panel of district court judges for a judicial clerkship. I have a few questions with regards to my upcoming interview:

1.) I (and the interview) are in the Midwest, so it's cold and snowy outside. I am planning on wearing a black skirt suit and am wondering if it's appropriate to wear black tights with my suit? Or would pantyhose (off-black) be more professional?

2.) What do I do about a coat? Is it ok to wear a wool coat over my suit? I'm not sure if there will be anywhere to hang it or leave it once I get to the courthouse. Or should I just leave it in the car and just suck it up during the walk to the courthouse from my car?

3.) What about a purse? All I'm planning on bringing with me are copies of my resume, writing sample, etc. so I don't necessarily need a large bag, but I don't know if it's unprofessional to bring my purse and carry the paperwork in a leather portfolio.
Good luck on the interview! We'll go through all of your questions…
First, on tights — this keeps coming up, and so we're going to run some polls today. Our default answer, previously, was that off-black pantyhose should be worn with a dark skirt suit. However, readers in the past have disagreed with us, saying nude/sheer is more appropriate (check out their suggestions for the best brands in the comments here). We've also heard of folks who hate tights with a suit (which we also disagree with — tights, to us, are fine for any day when you're NOT interviewing or something similar). So, without further ado: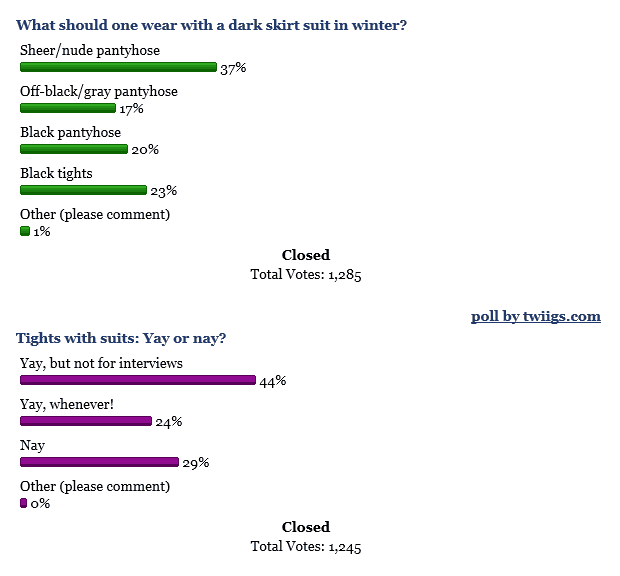 In terms of the wool coat — it always pains us to see women wearing ski jackets or other short jackets over a suit. Maybe we're old school, but a nice wool or cashmere overcoat — long enough to cover your thighs — will never go out of fashion. And of course you can wear it on top of your suit. For your interview, we would absolutely recommend wearing a coat — your common sense and judgment is a valid subject on the table, and if it's cold out, common sense dictates you should wear a coat. You're probably going to have to take the coat off to get through security, though, so we would just carry it, folded neatly, from that point forward. (Furthermore, there's no real excuse for not having a proper wool coat right now, as tons of places have them on deep discount. (2013 Update: Check out our Hunt for Wool Coats.)
Finally, as for the purse/portfolio issue — we've seen women do it both ways, and have never thought less of someone we interviewed because she carried a portfolio. (That's what most of the guys do, isn't it?) Personally we're fans of carrying a nylon or leather tote bag, though, to hold both the portfolio or folder as well as the contents of our purse. We would suggest, however, that whatever you carry should be as professional and grown-up as possible — so leave the backpack with reflectors on it at home. (2013 Update: Check out these interview bags.)
Readers, what say you – do you wear pantyhose or tights with dark suits in winter? What color looks best to you — and does your answer matter if you're wearing the suit for a winter interview or not (can you wear tights to a winter interview?)