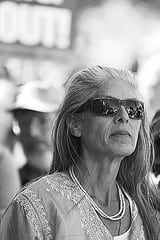 Update: We still think this is a great discussion on whether older women can have long hair and still be professional — but you may also want to check out some of our more recent discussions on aging gracefully, including how to go gray intentionally.
Long hair on older women: the perennial question. Despite our extensive oeuvre of hair-related questions here, I don't think we've done this one* (and it was hotly protested among commenters in response to The Careerist's recent diatribe against Hillary Clinton's long hair, as well as among her own readers. (Although looking back, we have done the "should I cut my hair for my first job" variation on the question.)
Let me begin by saying I'm biased: at 35, I have probably the longest hair I've had in a long time. This is for a few reasons, I suppose: first, the last time I did a major cut (donating 9″ to charity after my wedding), it kind of grew into a triangle shape, and now both my husband and my hairdresser protest heartily whenever I try to cut it anywhere near the top of my shoulders.
Second, it's growing like a weed right now (which will probably change when we finish weaning). Furthermore, I look back on pictures from my early 20s to mid 20s, when my hair was at its all time shortest, and feel a sense of disconnect with that person.
So I think I'm kind of solidly in the camp of "I'm going to wear my hair long until I can't."
(Pictured above: Glasses and long hair, originally uploaded to Flickr by Carutapera | PixelAlibi.)  
(Pictured below: First, a recent picture of me, taken in anticipation of writing a story on how to make a blow-out last for days. This was Day 3, if you're curious. Second, a picture of me from when I was around 26.)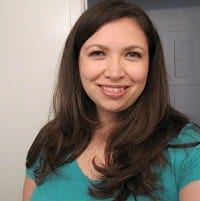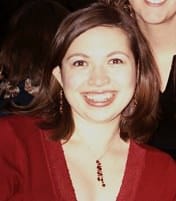 But when can't I have long hair? At what point is the time for me to say, I'm going to pack it in and get a shorter cut? There are some oft-cited reasons, I think:
– "Because shorter hair is easier." On most people, sure, and I'm 100% for change if it makes your life easier. But as I've mentioned before, my hair keeps getting curlier with age — so for me the easiest thing is to put it back, and in my estimation it's easier to work with, and I have better results, when it's longer. (Or, I can get a blowout, as pictured above, but I can do that with any length hair. Although I'll bet it wouldn't last for quite so many days.)
When my hair is short I have to wrangle with it for far too long in the morning with blowdryers, flatirons, and styling products, and, well, at a certain point a woman would rather live her life than wrangle her hair.
– "Because it looks frizzy and frayed." I think of this with the aging hippie — the woman who won't go get a hair cut or use conditioner because she, like, objects to The Man. Or something. (I fully admit I am not an expert on hippie ladies.) But if you're getting your hair cut regularly and it still stays long, I say go for it. (Also: use conditioner.)
– "Because it looks too youthful." Does it? But if it does — so what? I don't buy the argument that "it creates a disconnect if you look young but don't act young."
I am an entirely different woman now than I was in my early 20s, when looking "youthful" was a problem. I hold myself taller, I speak more authoritatively, and guess what, if I want something done you'll know it. I've learned how to manage subordinates, and I know how to impress clients.
If I lacked authority — and acted young — I can certainly see how long hair would contribute to the giggling/incompetent vibe.
– "Because everyone does it." Well, a), fooey on peer pressure. B) Is everyone doing it? Really? I can think, in two seconds, of three older women I know in real life who have long locks, and amazing careers. I happen to think Hillary Clinton looks great with her longer hair (and minimal makeup). And hey: if reality TV stars are all wearing longer hair, shouldn't we all be wearing longer hair?
(I'm actually thinking of a particularly well put-together broker on one of the property shows I watch, Selling New York, but come to think of it, pretty much every other reality star that I can think of also has long hair.)
I went back to Nice Girls Don't Get the Corner Office
last night, which is one of the sources that people often cite when they say "women can't be professional and have long hair." But her example in the book involves a woman with "waist-length strawberry-blond hair" who is told to "lose the Alice in Wonderland look," which suggests to me her hair accessories (headbands, etc) may have made her look too young (in addition to having hair that was probably in dire need of a good trim anyway).
I don't know, ladies — what are your thoughts? Do you think long hair can be professional if you have the gravitas to pull it off?
* And, drat, after writing this entire thing I've realized I have covered many of these points, as part of a longer post about whether platinum blond hair is professional.