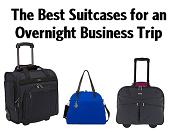 Which is the best suitcase for an overnight trip? We've talked about Kat's top packing tips, as well as rounded up some great weekender bags, but this is totally up business travel blogger Road Warriorette's alley, so I thought I'd pass it on to her — thank you for guest posting, RW! – Kat.
Reader C is on the hunt for a professional, small suitcase for overnight business trips, to help her cut down her baggage:
I travel occasionally for work, and have the standard wheeled suitcase that everyone has, which is perfect for up to week-long trips. But lately, I have been doing more overnighters, and my usual suitcase plus a computer bag plus a purse is overkill. I am searching for a wheeled bag that's big enough for an outfit and my toiletries, and a separate compartment for my laptop. Ideally it's professional looking enough that I could wheel it into the corner of a business meeting, and not be embarrassed because it looks like a backpack or a duffel bag. Any suggestions from the hive?
I totally understand—it feels weirdly wasteful to travel with a suitcase that is half empty. There are so many professional-looking standard sized rollerboards, but it seems like smaller bags that look appropriate for work are few and far between. Here are a few options.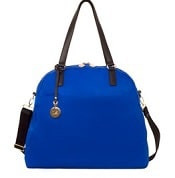 If you are a minimalist packer, you may try only bringing one bag. I have the
Lo and Sons O.G.
and I love, love, love it. There are plenty of pockets, and using a few
light-packing tricks
it can hold all the items you need for an overnight trip. Even if this type of bag won't work for you as a suitcase replacement, it would cut down on your load as a combo purse and computer bag.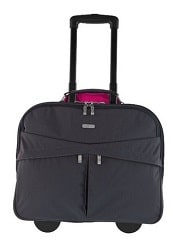 Another option is a rolling briefcase. There are plenty of professional, high quality options available that will fit all of your necessities. My two cents is that if you go this route (or the small suitcase route) then pick one that has a flat top, so you can still stack other bags on top. I like this
Baggalini Skyline Rolling Briefcase
. It has several compartments, comes in plenty of colors, and has great reviews.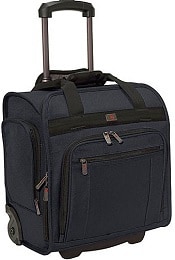 Finally, there are small rolling suitcases. There aren't a ton of options out there, but you can find something will look professional, roll easily, and hold plenty of stuff. Victorinox is a great brand—I own the
Victorinox WT 20" rollaboard
and love it—and their
Eurotote
is on clearance right now at
eBags
.
Readers, which are your favorite suitcases for an overnight business trip?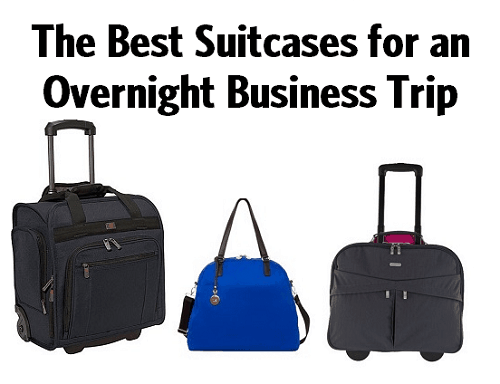 We are a participant in the Amazon Services LLC Associates Program, an affiliate advertising program designed to provide a means for us to earn fees by linking to Amazon.com and affiliated sites.