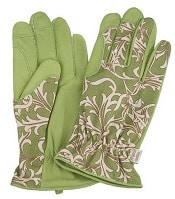 Retirement — and retirement hobbies — are likely a long way off in your mind. But I like to be prepared, so I asked Lisa from Privilege what those of us who are still working should know. Can one prepare to pursue hobbies? Were there things she thought she'd love but hasn't -— or hobbies that, once she got deeper into them, she realized she could have made the time for, earlier? Lisa has guest posted* with us before, pondering the things you might miss about a corporate job once you're out, and — in one of our top posts — advice from the VP/hiring manager level. Welcome back, Lisa! -Kat
Many of us dream of retiring and finally having time for Anything But Work. I've taken a couple of stabs at retirement myself already, at 57. And, as it turns out, unsurprisingly for you smart folks, there's more to it than romping around not working.
This is not to say that hobbies, travel, and sofa-intensive afternoons aren't out there. They are. And they are good. The thing is, they're even better when you've done a little advance research. And, it's also true that many of us who've had jobs with responsibility and authority, despite the associated stress, don't want to toss it all aside. We'd rather replicate what we love, add new pursuits, and get some autonomy over when we do what.
(Pictured: Angela's Garden Fabric-Back Leather Palm Garden Glove, $18.99 at Amazon.)
It's worth planning to make that all happen.
What I dreamed of while working:
Writing
Cooking
Gardening
House Furnishing & Hanging Pictures
Giving Back
Traveling
Lying on The Sofa
Watching So Much Television
What I didn't realize I'd miss:
Multi-Variable, Big Impact, Problem-Solving
Collaboration
Mentoring and Coaching
Authority
Clear Goals and Performance Metrics
So, as you sit at your desk, or wait outside the courthouse, imagine, what do you want to do when you're done? Do you see palm trees? A golf course? Your crochet basket? Wait, do you feel like you're wasting time? You're not. The first step to retiring well is to start dreaming now. Not only is it a good stress reduction strategy, it's good planning. If you retire from a high pressure job without anything you like to do but work, you and your near and dear will suffer.
So gaze off, now and then, into the horizon. Don't worry, horizons know how to wait.
Now, what else to do in preparation? Well, what parts of your job do you love? (If it's tough just now, just imagine the bully in the other office is long gone. Imagine your assistant is blazing through your To Do list. Better?)
You love adrenaline? Build up your thrill skills. I hear downhill skiing and bicycling are good for that, so you might want to arrive at retirement with good quadriceps. Coaching? Many public service organizations offer mentor opportunities, and you can start now. What about clear performance metrics? Once you retire, nobody sets goals but you. Sounds good, but what if you're a classic Type A? You'll might want to learn to back away from the list now, or in retirement you'll catch yourself checking off activities that were supposed to be fun.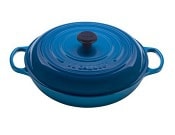 (Pictured: Le Creuset Signature Enameled Cast-Iron Braiser, $249.95 at Amazon.)
And how about hobbies and creative pursuits? Myself, so far I'm relying on skills already in place. It's easy and meditative to relax into processes you learned a long time ago. I know we're supposed to learn new stuff to keep the brain agile, but I find plenty of new in the long-known.
Take cooking. Invest in Le Creuset and All-Clad today, and in 20 or 30 years they'll be waiting for you, cost fully amortized and well-seasoned. Time to master Peruvian food. How about gardening? Plant the basics now, in pots or beds. Roses, like good cookware, are patient. Felco pruners anyone?
Oh, by the way, I'll leave the wood-working and knitting to those of you with small motor skills. I'll take the gross motor work; avoid thorns and burns, revel in fragrances and tastes.
There is one new skill I'm learning. My house needs so much attention. When I was working, as long as the stove, fridge, and TV functioned and there were enough places for everyone to sit, I didn't much care about anything else. Interior design is complex, guys. If I disappear off the face of the earth, send the rescue dogs to Pottery Barn please. I'll probably be under a coffee table.
In closing, as you make your way up the over-achieving ladder, you might take a weekend to assess whether you've planted all the right seeds to harvest in the autumn of your days. See? Retirement also gives you lots of time for completely asinine metaphors. I told you it was good.
Readers, have you thought much about what you'll do in your retirement? What do you think you'll miss about work?
* As always, this guest poster has been invited by Kat to post on a subject of interest to the community. We value having different and diverse voices here, and indeed part of the benefit of guest bloggers is broadening the dialog beyond Kat's own views. To that end, please note that opinions expressed by guest bloggers, like opinions expressed in comments, do not necessarily reflect the opinions of Kat, Katfry LLC, or any of our sponsors or other contributors.
We are a participant in the Amazon Services LLC Associates Program, an affiliate advertising program designed to provide a means for us to earn fees by linking to Amazon.com and affiliated sites.