2018 Update: We still stand by this advice on transitioning from a conservative office to a more casual one, but you may want to check out The Ultimate Guide to Business Casual for Women.
Since she's started at a more business casual office, Reader L wonders how she should transition her wardrobe of blazers and pencil skirts to an office filled with jeans and sneakers.
I'm 24 and recently left a paralegal job at a small litigation firm for a research and editing job at a large publishing company. The new job is great and a much better fit for me but I'm still struggling with the transition to the more casual attire I'm seeing in my young, tech-centered office. I see jeans and gross sneakers every day of the week, which clashes with my wardrobe of pencil skirts and blazers. Even when I try to tone it down, the basics in my closet just aren't in the same spectrum. I've tried to pay attention to what the seniormost woman in my office wears, but there are a LOT of pay grades between a manager and someone in my entry-level position.

I really want to stand out, make an impression and start advancing. At the same time, I don't want to look like I'm trying too hard or oblivious to office culture. My question is: is it more important to dress in a way that feels professional and appropriate (and, to be selfish, much more comfortable for me) or to mimic the people around me? If it's the latter, any tips on looking sharp and competent when dressed down?
Great, great question, because it can be really tricky to transition your wardrobe. Here are some of my tips, but readers, I hope you'll weigh in with your best tips on transitioning from a conservative office to a more casual one!
First: I think it's important to be comfortable. If you're a blazer-and-pencil skirts kind of girl, don't feel like you have to wear "gross sneakers" just to fit in. That said, your instinct to watch the most senior women in your office is spot on — whose job do you want to have in 2 years? in 5 years? One of the most important things to pay attention to is what those role models/mentors are saying (or trying to say) with their clothes. Is it that they're detail-oriented? Creative? Different jobs require different qualities, and the people who succeed in publishing may be different than the people who succeed in a law firm.  If your wardrobe is classic, buttoned-up conservative, I think the only risk you should be aware of is that, depending on your personality, you may come across as someone who is mousy and lacks personality — or you may come across as someone who is bossy or rigid.  Make sure that your clothing projects the qualities that are recognized for success in this field.
There are a few ways you can take a more buttoned-up wardrobe to a more casual, creative look… some suggestions:
Get a great pair of jeans.  Look for a dark blue wash with very little distressing, and see how you feel about incorporating the jeans into your more conservative wardrobe.  Try wearing them with a structured, fitted blazer, or with a button-front blouse.  (Trouser jeans may be the perfect place for you to start, or even regular trousers that are made from a denim material.)
Look at the "weekend wear" for the shops you already frequent.  If you're a fan of, say, Ann Taylor, Talbots, and J.Crew, they have lots of pieces that are more relaxed.  While they might not be appropriate for a conservative office, the more relaxed looks from these stores might offer great "bridge" pieces between your old wardrobe and your new one.  If you were really a devotee of a particular store, see if they can connect you with a personal shopper to help integrate your old pieces and your new ones.
Have fun with your accessories.  Whereas conservative offices generally encourage small, tasteful jewelry (in the best metals, featuring real gemstones), your new office may give you more leeway.  If you're in a creative office, an easy place to start looking for "creative" necklaces is museum stores — I've bought a number of pieces from MomaStore.org over the years, and the quality has always been pretty good for the price.  Once you have a better idea what you like, Etsy stores and local boutiques can be a great way to get interesting jewelry that expresses who you are.
Similarly, reassess your shoes.  I think a pencil skirt and a pair of classic pumps will always be in style, no matter where you go, but a more casual office may permit you to wear different colors and patterns than you would have worn to a law firm, and you may even find that funkier brands appeal to you (I'm thinking of things like Miz Mooz or Tsubo here, but there are so many!).
Consider wearing the basics in your wardrobe in new, more relaxed ways.  For example, a button-front shirt may look great worn open and untucked with a camisole beneath it — or you may find that a blazer that has a fun lining looks chic with the sleeves rolled up.  More casual pieces that languished in your closet until a casual Friday — such as a flyaway cardigan — may be just the thing to pair with a structured piece like a sheath dress.
Whenever anyone goes through a style reassessment — which everyone should do from time to time! — I think it's great to find someone in the public eye, who has your body shape, and whose style you admire.  What pieces work for her?  (If it's an actress it can be particularly fun to watch her personal style versus her character's styles, and see how her clothes differ from role to role — but also how they stay the same.)  Keep track of which outfits you really adore, and use those for inspiration.  As I mentioned above, a personal shopper is another way to go, and most department stores offer a shopper's services free of charge.  (Just make sure you have a good idea of what you already want so you don't end up purchasing a lot of things that aren't really part of your new style.)
Readers, what are your tips for transitioning a conservative work wardrobe to a more casual one?
(Stock photo credit: Deposit Photos / Jeanette.Dietl. Originally pictured (2011):  New Office-2, originally uploaded to Flickr by akeg.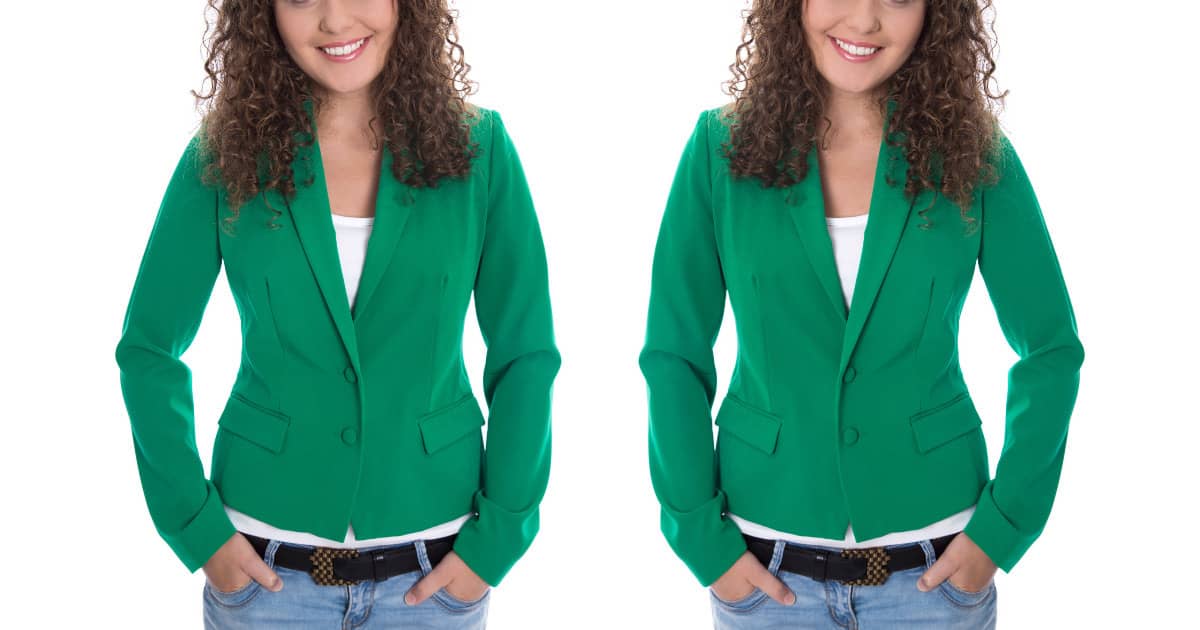 )