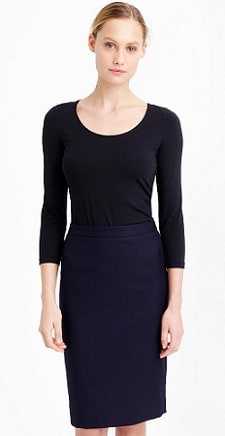 Our daily workwear reports suggest one piece of work-appropriate attire in a range of prices.
I was intrigued when I saw that J.Crew has a stretch t-shirt that they're selling as a t-shirt to go under suits, because I've always argued that suits and t-shirts are a match made in heaven. (They sell a tank top as well.) It looks like this one doesn't really have a thick band around it like a lot of t-shirts do, and it seems like it has a pretty, thin layering sort of fabric that reminds me of the kind of luxury layering items you can get at Adea. (This is cotton/spandex.) From the reviews, it looks like customers prefer the tank top, but I advise not wearing sleeveless tops under suiting jackets because of laundry reasons. You're going to be able to stretch out your dry cleaning if you've got your underarms covered. This top is $59.50 ($55 for black) at J.Crew, but right now you can get 20% off with code SHOPNOW. Available sizes are XXXS-XL. Stretch Suiting T-Shirt
Two plus-size options are here and here.
Seen a great piece you'd like to recommend? Please e-mail [email protected]