2017 Update: Links have been updated below for all of the work-appropriate t-shirts, but you may also want to check out our latest discussion of the best tees for layering. 
Sure, we all know what basics professional women are supposed to have in their closets, but if you're buying one for the first time or replacing one you've worn into the ground, it can be a pain to find exactly the right incarnation in stores. In "The Hunt," we search the stores for a basic item that every woman should have.
We just rounded up demi-camisoles, but I thought we'd take a look at that other versatile layering piece: work-appropriate t-shirts. These are great for days where the temperature is in flux (or the office radiator is on the attack), as well as a way of injecting some color into your wardrobe to mix up the sea of neutral basics. Try them belted, tucked, untucked, or layered (I especially like a simple T under a suit), and remember — if you're wearing them to work, t-shirts should be in impeccable condition. Readers, which are your favorite work-appropriate t-shirts? Which brands do you buy again and again? How do you distinguish between a lounge-only T and a work T? 
Some of our favorite work-appropriate t-shirts include:
In our last roundup, numerous readers sang the praises of the Lands' End fitted cotton modal line of T-shirts. For $19 (less if you buy in bulk!), and a wide variety of colors and sizes (including plus and petite sizes), it's hard not to like 'em. This lovely lilac one is marked to $15 (was $19) today at Lands' End; take another 25% off with code FRIENDLY. Lands End Fitted Cotton Modal Scoop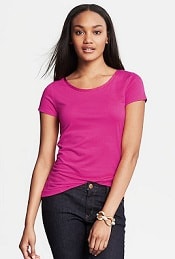 This piped tee from Banana Republic has been a staple there for a few years now, and I like the smoothness and softness of the knit, as well as the tiny bit of satin piping at the collar.  Most colors are $36.50, but you can take 40% off today with code BRCLUE40 — bringing the price down to $22. Banana Republic Luxe-Touch Piped Tee (2017 update: try this stretchy tee instead.)
I own a few Caslon t-shirts — they're softer than most, but also tend to be a bit more stretchy, which can be both a pro and a con depending on what you're looking for.  They're $22 each, with tons of positive reviews at the Nordstrom website. Caslon T-Shirt
Another reader favorite from our last roundup: the White House | Black Market seamless tee.  It's available in a variety of sleeve lengths, necklines, and colors at WHBM, generally marked $19-$26. WHBM Seamless Tee
I've heard a lot of chatter about the J.Crew Perfect Fit Tee, which always used to be the go-to for wearing under a suit — some people don't like the latest versions on the shelves; some remain committed.  Readers, what are your thoughts? There are 13 colors, all available online only, in sizes XXS-XXL, for $24.50. J.Crew Perfect-Fit Tee
I continue to love Three Dots t-shirts, and snap them up whenever they go on sale (check 6pm and Amazon for sales; you can find them full price at spots like Neiman Marcus).  The more classic-cut shirts are thick, they wash and wear well, and the colors stay saturated.  This "British Tee" is available in five colors (also pictured at the very top of this post), marked from $25-$33. Three Dots 3/4 Sleeve British Tee
How about you, readers — which are your favorite work-appropriate t-shirts? 
Like this feature? Check out other recent installments!