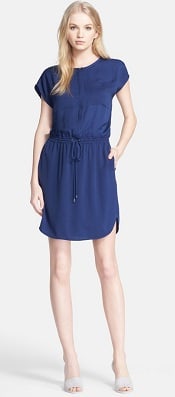 2020 Update: We still stand by these thoughts on upgrading weekend clothes — you may also want to check out our new series on weekend wear, including the best jeans for work and play.
Welcome to what is probably our final "
next step
" feature, where we explore how to take the next step up in
work clothes
,
office heels
,
stylish work bags
, and
professional jewelry
; we also explored the middle upgrades for
services
(e.g., you can cook for yourself or get a professional chef — but what's in between?). Today:
how to step up your weekend clothes game.
(Pictured: Vince Gathered Shirtdress, now sold out — here are some similar styles!)
Here is my theory on weekend clothes: there are very few classics. At the rate that fashion moves these days, the quickest way to look and feel frumpy is to have an outdated off-duty style. I speak from experience here: I refused to buy in to the skinny jean trend for <cough> way too long, arguing that bootcuts were classics and fit right in to the style for
weekend me
.
So what if I'm still in bootcuts when everyone else in skinny jeans,
you may say — it's just denim, and I'm in suits or sheath dresses five days a week. But I've noticed that a lot of elements of your workwear wardrobe can flow from weekend choices.
2020 Update: These are some of the best jeans for work (affiliate links): 1) Paige 2) Madewell 3) Topshop 4) Wit & Wisdom 5) Levi's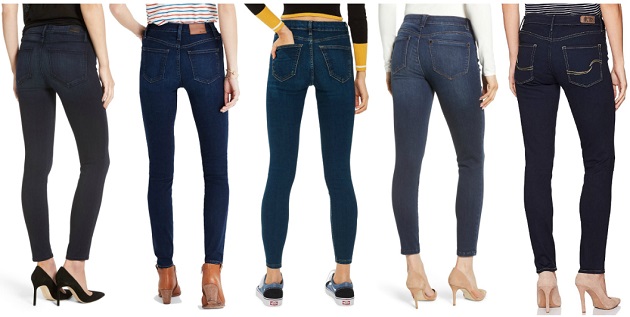 For example: a fitted t-shirt looks great with bootcuts, but you need a drapey, tunic-y, asymmetrical top for skinny jeans. The slouchy, more boxy tees and sweaters (or, gah, the crop tops) look better with boyfriend jeans. Once you get used to doing the half-tuck with your jeans on the weekend, your office style changes as well — to more drapey blouses with slimmer-cut pants. Similarly, once you get used to rolling your jeans to wear with your booties, wearing knee-high boots with skinny jeans feels almost antiquated — which means you buy fewer knee-high boots or don't replace the ones you have, and then it's less of an issue whether it's appropriate to wear
knee-high boots to work
with dresses, and instead we start talking about whether booties with skirts are work-appropriate. It's very interesting to me how all of the pieces interact. This is all just a theory, and I'm curious to hear what you guys think about it. I'm still perfecting my own weekend game, but I think this is where the
capsule collection
really comes in — you buy a few of-the-moment pieces that all work together in terms of color, silhouette, and vibe, and try to keep your new purchases to a minimum. I also think that if dresses work for you in your off-duty life, they're one of the best ways to stay as close to "classic" as you can get.
Anyway, here are my tiers for weekend wear — readers, where do you shop for weekend clothes? Do you also feel like casual fashion is moving far more quickly than it has in the past — and how do you address it? Or, is all of this less of an issue because you're either in a suit, workout clothes/sweatpants, or a date night slinky dress, with very little in between time?
Tier 1
— These stores are easily accessible, and you probably shopped at them in your teens. The pros: they're affordable and always on trend. The cons: a lot of their cuts and trends may skew a bit younger than you prefer; the clothes are not made to last (generally speaking); and you may want to consider the ethics of buying a ton of "disposable" clothes.
Tier 2
— At these stores the quality is a bit better, and you're probably already shopping at many of them for your workweek look. If I were looking for a cute weekend dress, a date night top, or a pair of shorts, I'd probably hit these stores first. We also start to get into the idea of "better" t-shirts than what you find at your normal mall stores.
Tier 3
— These stores and brands feel like a bit more of a splurge to me: you have to really like what you're buying since odds are most of it is too casual to be worn to work. Still: for that amazing dress or that perfect leather moto jacket, these are the stores and brands I'd check first.
Tier 4 —
Money is no object…
Which brands and stores are your favorite for weekend garb, ladies? What are your best tips for upgrading weekend clothes?
We are a participant in the Amazon Services LLC Associates Program, an affiliate advertising program designed to provide a means for us to earn fees by linking to Amazon.com and affiliated sites.