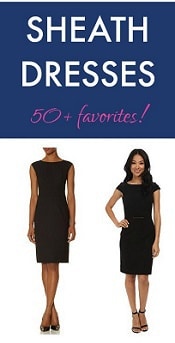 2018 Update: Check out our latest roundup of classic sheath dresses for work!
Sure, we all know what basics professional women are supposed to have in their closets, but if you're buying one for the first time or replacing one you've worn into the ground, it can be a pain to find exactly the right incarnation in stores. In "The Hunt," we search the stores for a basic item that every woman should have.
We haven't done a roundup of sheath dresses in almost a year (2014, 2013), so I thought we'd do one today. For my money, the best sheath dress for work has:
a work-appropriate hem length (with no slits to compromise that — test with the mirror trick!)
a high enough neckline and shoulder situation that you don't need to give any extra thought to which bra to wear
a dark, neutral color like black, navy, or dark charcoal
And — for me at least — I think a sleeveless sheath dress is best because it looks best beneath blazers and cardigans.
Ladies, what do YOU look for in a great sheath dress? Have you bought any great ones recently, or worn any classics into the ground? 
[Read more…]