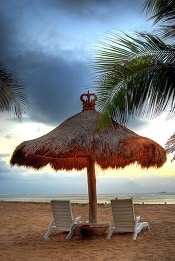 What are some good ways to treat yourself for a job well done? Reader L wonders how best to reward herself with a fun splurge…
I just learned that I received a huge promotion at work, for which I've been working very hard for a very long time. I would like to do something special for myself to celebrate, and was thinking about splurging on something as a reward. Many of my male colleagues will do something like buy a very nice watch for such a promotion, but I'm not really interested in that. What other options would you suggest? For example, I thought investing in a really nice handbag might be an option, or I'm also considering going on a bucket list trip somewhere exotic. I would love to hear your suggestions and those of other readers, and while I know this is a very personal decision, I thought it could make for a great discussion.
Great question, Reader L (and congratulations)! We've talked about how to celebrate a win, and even the splurges I thought were worth the money, but this is always a fun topic.
Given Reader L's particular question, though, I have to say: TAKE THE TRIP IF YOUR SCHEDULE WILL ALLOW! A lot of readers noted that I didn't include trips on my list of "best splurges," but my schedule back then was always way too busy to fit in a bucket list trip (ditto for my friends' schedules at the time). Material goods like watches usually won out over experiences. (Even if you can't go out of town, though, I suppose you can always schedule a pampering spa day at a fancier hotel in your city.)
Readers — do you reward yourselves with travel and materialistic splurges, or do you celebrate work successes by treating yourself in other ways? 
(Pictured: Bali Paradise, originally uploaded to Flickr by Sean McGrath.)
—————
N.B. PLEASE KEEP YOUR COMMENTS ON TOPIC; threadjacks will be deleted at our sole discretion and convenience. These substantive posts are intended to be a source of community comment on a particular topic, which readers can browse through without having to sift out a lot of unrelated comments. And so, although of course I highly value all comments by my readers, I'm going ask you to please respect some boundaries on substantive posts like this one. Thank you for your understanding!