What are the best leggings to wear with skirts, when you want something sturdier and more comfortable than tights? Reader M asks…
My question is about leggings but different from your recent post about whether you can wear leggings to work. I work in a business casual office (seriously some ppl wear athleisure, jeans every day, etc). Last year I adopted a work uniform – multiples of the same black pants, multiples of the same shirts in neutral colors. I love it and it's definitely upped my game, professionally. But I'm looking to incorporate some dresses, possibly on Fridays, during winter.

I hate wearing tights, and would stick to A-line/fit and flare/swing dresses. My question is: what leggings have you found that work under dresses? I don't need something so thick that they would work as pants, but I want something sturdier and more comfortable than tights. Any suggestions?
Interesting question, M — I agree that I wear a ton of dresses in the summer when bare legs aren't a problem, but the thought of fighting with tights in the winter often discourages me from wearing dresses for casual days. So what are the best options for comfortable and sturdy tights and leggings to wear with skirts?
This post contains affiliate links and Corporette® may earn commissions for purchases made through links in this post. For more details see here. Thank you so much for your support!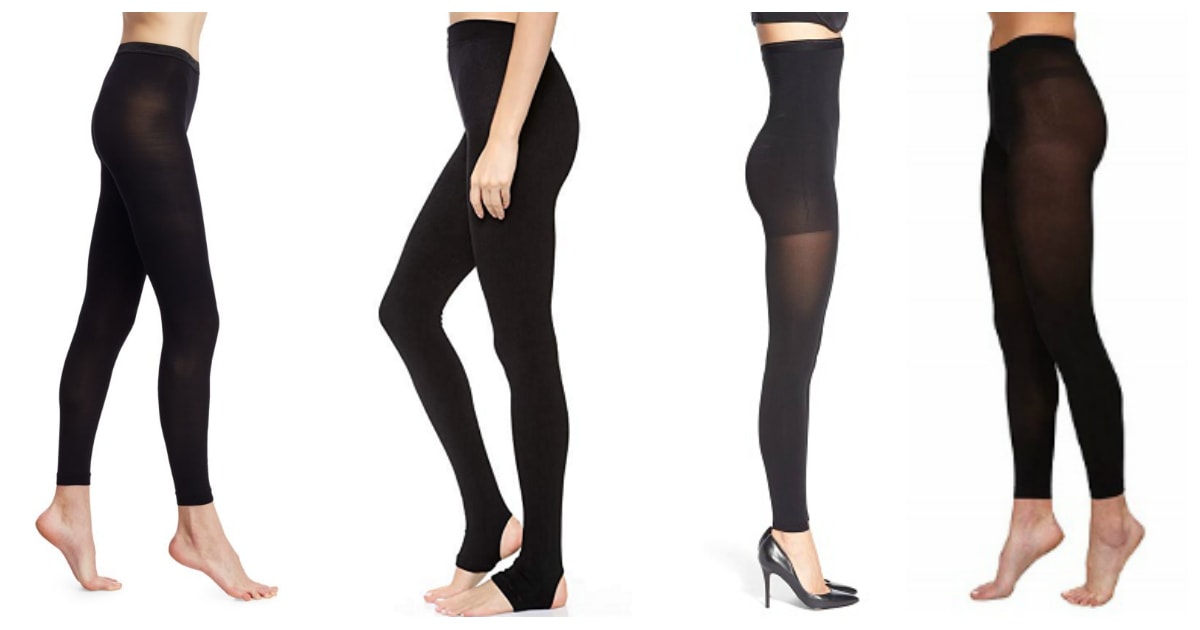 Pictured, some of the best leggings to wear with skirts: one / two / three / four
First, the obvious problems with wearing leggings with skirts:
pure cotton leggings may stick to skirts and dresses and create a static electricity nightmare
leggings that aren't made of cotton may have a distinct "I'm wearing yoga pants with my dress" vibe
some options may be comfortable but get baggy around knees as the day goes on
We'll also mention that there are some tights that claim to be almost indestructible now, such as the $99 Sheertex (here's a relatively recent reader discussion on them, with one person noting that "I have several pair, but two of them have fallen victim to sharp-edges-under-meeting-tables." Alrighty then!).
So here are a few of the options I've found, but I'd love to hear from readers — what leggings do you wear with skirts and dresses?
Readers have been big fans of fleece tights for a zillion years in part because they are warm, durable, and a lot more comfortable to wear than general tights. If you still think, ugh, NO TIGHTS, note that they also make stirrup fleece tights (pictured), as well as thigh-highs. I've always been a fan of Plush, which now has an extensive line of fleece-lined leggings, but readers have noted success with the fleece tights at Express and at discount shops like TJ Maxx.
Uniqlo's leggings are actually in their hosiery department (unlike their newer "leggings pants," which are made of ponte and have pockets) — and many of them are shown with skirts, albeit with super casual outfits. Prices start at $9, so whether you're wearing these leggings with skirts to work, or just around the house, the investment isn't too dear. Plus, Uniqlo's Heattech options are always great for cold winter days. (They also have Heattech tights.) Another option along these lines: Title Nine's Spark Leggings, which are often pictured with skirts.
(Just a note, also — leggings look great with knee-high boots!)
Hunting for black knee-high boots? Here are some of our long-standing favorites as of 2023!
Updated suggestions, inspired by the commenters: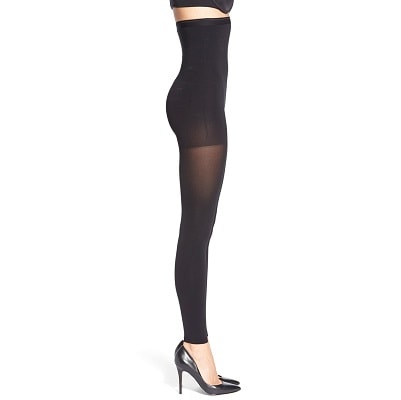 Footless tights – OMG how have I completely forgotten the Hue tights of my teens with that little lacy band at the bottom?! (Like this one or this one?) I wore them all the time with super micro minis…) Readers helpfully liked to Target's selection of footless tights, but you can find them everywhere from drugstore brands like L'eggs to more upscale stores like Nordstrom. It's been years since I bought dance tights, but they also make footless dance tights, which might be a bit thicker and more durable than regular tights; I'm intrigued to see that Free People is selling both stirrup tights and footless tights from Capezio. (Pictured.)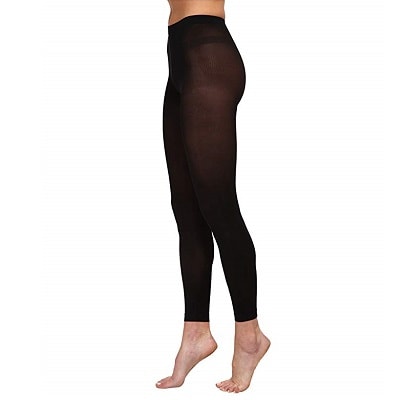 "Leggings" from fancy hosiery brands – I was Googling footless tights, and a pair of Falke leggings came up and it kind of blew my mind. Of course fancy ladies want a break from tights occasionally also! Falke and Wolford both make "leggings" that look a lotttttt like footless tights (and which, IMHO, do not look like they could be worn as leggings, i.e., without a bum-covering top). Saks has both leggings and footless tights from Fogal. Pictured.
Looking through other posts on the internet (particularly on how to wear tunics with leggings, or some of the teacher/modesty blogger posts), a lot of the same names keep cropping up — Lysse leggings (especially these), Yummie leggings, and Old Navy leggings.
As to the question of HOW to wear leggings with skirts or dresses — for my $.02, this look works best with dresses that are a bit on the shorter side (definitely knee length or above), and the look feels "youngest" with boots, not ballet flats — but that's me.
Readers, what are your thoughts — do you avoid skirts and dresses because you hate tights? Do you prefer to wear leggings with skirts and dresses on casual days? (What other solutions have you found?) How do you style your leggings with skirts or dresses?
Pictured below: one / two / three