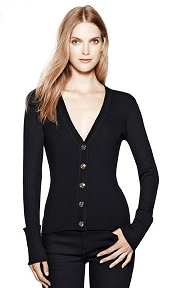 Sure, we all know what basics professional women are supposed to have in their closets, but if you're buying one for the first time or replacing one you've worn into the ground, it can be a pain to find exactly the right incarnation in stores. In "The Hunt," we search the stores for a basic item that every woman should have.
It's boring but basic: the black winter cardigan. Whether you prefer them as part of a twinset, worn buttoned up beneath blazers, layered on top of button-fronts, worn open over dresses, or belted over skirts, there are a ton of ways to wear the basic cardigan sweater. Readers, where is your favorite cardigan from? Have you gotten any great deals recently?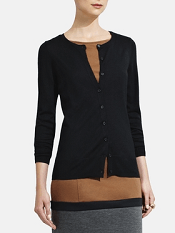 I like the look of The Limited's "essential merino" collection — this classic cardigan is available in 6 colors, sizes XS-XL, and it's on sale today: was $49.90, now $34.93. Essential Merino Blend Cardigan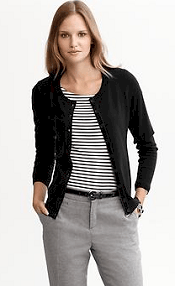 Banana Republic's merino cardigan has a band at the bottom (which you may or may not like) and velvet trim — it comes in 7 colors in sizes XS-XL for $69.50. Velvet trim merino cardigan
I was intrigued to see another blogger cite Lands' End as one of the best cashmere sweaters out there. This classic crew cardigan is available in 10 colors (and petites and plus sizes), and has a matching shell if you like the twinset look. The sweater is $168, but note that you can get 40% off any one item with code LEAVES and pin 9876. Women's Regular Long Sleeve Classic Cashmere Crew Cardigan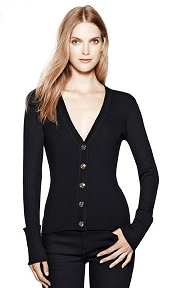 Tory Burch has offered the Simone cardigan (both the shrunken version as well as the original, more boyfriend-shaped cardigan) for years — it's nice to see that this season it's available in black and navy (sizes XXS-XL). The sweater is $225 at Tory Buch. (It's available elsewhere, but only in less neutral colors — Bloomingdale's has the rosemist and "candy apple" colors marked to $157, while Nordstrom and Neiman Marcus have it at full price.) shrunken SIMONE CARDIGAN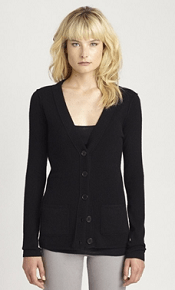 Another blogger turned me on to Inhabit cashmere sweaters a few years ago — so I can vouch for the fact that they are supersoft — definitely stalkworthy. (The brand has occasional sales, and it also appears at Bluefly and The Outnet from time to time.) They have a basic cardigan in 7 colors for $338 right now (le sigh). InhabitNY Cashmere Basic Cardigan
Like this feature? Check out other recent installments!