2020 Update: We still stand by this advice on how to blend conservative style with business casual, but you may want to check out The Ultimate Guide to Business Casual for Women or our latest roundups of the best jeans for work or the best sweater blazers.
How should you follow a business casual dress code (and avoid looking overdressed) when your personal style tends toward classic, understated, and conservative — without buying an entirely new wardrobe? Oh, and also: you're in a technical field, you're the youngest employee in your office, and the only woman there besides the secretary. Reader K wonders:
I have recently started at my dream job which is a technical one and I work with men only (besides the receptionist). I am on a very tight budget but have invested in basic pieces such as good quality black suits, classic dresses, blouses, black pencil skirt. The dress code is business casual. Yet the other day I wore a classic grey dress, black blazer, heels, and pearls and the CEO made a comment before a meeting insinuating I was overdressed. He wears cords and a polo everyday. What can I wear to work? I prefer to wear more conservative clothes and feel more professional in blacks, and greys and dark color palettes with a small pop of color (like a maroon or emerald blouse). I am in my early 20s and look especially young and am the youngest in my office and prefer the clean cut conservative professional look so am at a loss of what to wear. Any help would be much appreciated.
We've talked about how best to dress in business casual in a male-dominated, technical workplace as a younger woman, dealing with other women's backhanded compliments about dressing well, and being told by a male boss that you dress too well and need to dress "frumpier," but not exactly this. Personal style is often important, but sometimes showing that you can "read" company culture requires dressing in a different way than you might otherwise. Furthermore, when you look young, it can come off even worse — like you're playing dress up. So here are a few ideas about how to blend conservative style with business casual…
2020 Update: These are some of the best jeans for work (affiliate links): 1) Paige 2) Madewell 3) Topshop 4) Wit & Wisdom 5) Levi's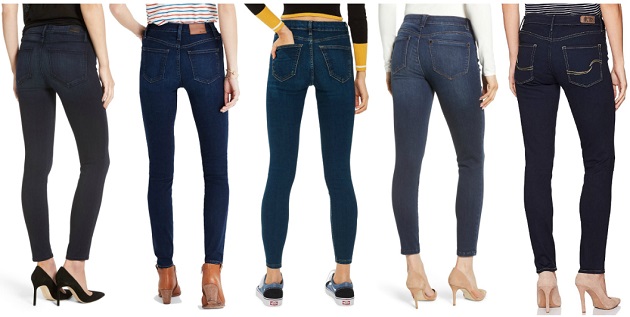 Don't wear structured pieces together. A sheath dress and a blazer both sound like awesome building blocks for a wardrobe — but when you wear them together it gives a more uptight vibe. Try wearing the blazer with pretty much any five-pocket pant, or as a way to give structure to some looser, more flowy dresses. On the flip side, try wearing the classic gray dress with a looser, flowy cardigan, flat boots and dark tights.
A small signature piece of jewelry is ok, but know when to downplay it. One of my old friends has a signature pair of pearl and gold studs that she always wears, even though the rest of her wardrobe has always had the full range from conservative to wild — it's a nice consistent note throughout her wardrobe. In the outfit you note, the pearls sound like they really gave a more conservative vibe to the outfit, whereas if you'd gone with a fun statement necklace it might have given the outfit an edgy but still professional vibe. Even wearing the pearls with a brooch or a colorful scarf would have been a nice way to take the focus off them. (And I say this as someone who normally loves pearls!)
If jeans are appropriate, get a few pairs you feel comfortable wearing to work. Denim has a way of making any outfit more casual, even if it's dark rinse trouser jeans. This is probably the most budget-friendly thing I can tell you — buy one or two nice new pairs of jeans, and the rest of your wardrobe (pumps, blazers, button-fronts, pearls, whatever) will all be much more wearable. Another great option: pants that have five pockets, like most jeans do. These may be corduroys, khakis, velvet… whatever. On top, chambray shirts have been huge in recent years, and can be a great layering piece beneath cashmere sweaters, blazers, even sheath dresses, to make outfits more casual. (Pictured at top: Halogen® Long Sleeve Chambray Shirt, $68 at Nordstrom in regular and petites.)
Get inspiration online. I've been following the Pinterest board for "Work Outfits," and I think the vast majority of outfits I see are business casual — which would be perfect for Reader K.
2020 Update: These are some of the best sweater jackets for the office or working from home: gray / gray / green / navy with pockets / cropped navy


Ladies, what is your advice for reader K? What are your best tips for how to blend conservative style with business casual?