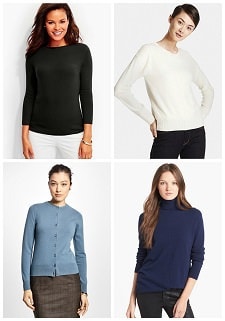 2018 Update: Hunting for affordable cashmere for work? You may want to check out our most recent roundup, with tons of great cashmere sweaters for work under $200.
Sure, we all know what basics professional women are supposed to have in their closets, but if you're buying one for the first time or replacing one you've worn into the ground, it can be a pain to find exactly the right incarnation in stores. In "The Hunt," we search the stores for a basic item that every woman should have.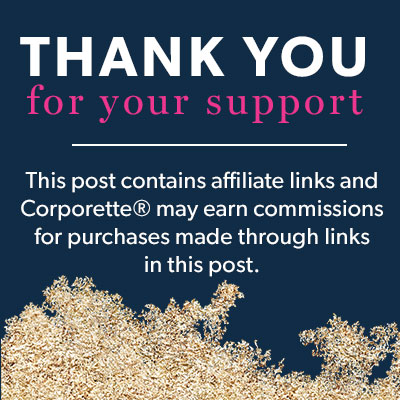 Which are your favorite affordable cashmere sweaters for work, ladies? Which ones do you reach for, for warmth, style, or comfort — and which have held up after laundering or dry cleaning? We haven't talked about this in a while, and cashmere sales are starting (Neiman Marcus, Uniqlo, Lord & Taylor, and Nordstrom all have some crazy markdowns right now) — so let's discuss.
Pictured at top, clockwise: black / cream / navy / blue.
Before we get to our featured cashmere sweaters for work for today, here are some of the greatest hits from our Workwear Hall of Fame – cashmere sweaters that have been around for years and are loved by all! (2018 Update):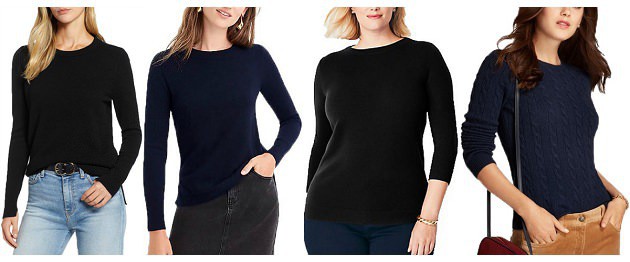 Above: one / two / three / four
Curious for past iterations of this list? 2016, 2015, 2014, 2012.
On to today's feature, which looks at some of the most affordable cashmere for work (nothing over $265!):
On the affordable end of things, everyone raves about Uniqlo cashmere — so it's great to see that they have a cotton cashmere cardigan for only $19 in eight colors (neutrals and springy pastels). It's available in XS-XXL. Cotton Cashmere V-Neck Sweater
I personally can't stand the Lord & Taylor site for reasons like this — they're having a crazy sale with lots of cashmere sweaters marked to $29, but they're all on separate product pages so I can't get you a great link. Still: I'm seeing lots of petite and plus-size pullovers, cardigans, and more, marked from $160ish down to $29. The pictured sweater is only available in size 1X, but here's a link to a general search.
Last year during one of the big Nordstrom sales I got a Halogen cashmere sweater and a higher-test Nordstrom-brand cashmere sweater, and immediately returned the Nordstrom brand one because the Halogen one was similarly soft and at a much lower pricepoint — it seems like lots of people agree since there are a number of Halogen cashmere sweaters with TONS of high ratings. This looser, lightweight crewneck is normally $89 and available in ten colors, regular and petite sizes — with some colors and sizes down to $49. Nice. Crewneck Lightweight Cashmere Sweater
Readers have sung the praises of Lands' End sweaters for years, and it's great that they come in regular, petite, and plus size options. Their highly-rated crewneck is $149 (also check out their cashmere cardi), but today you can take $10 off $500, $25 off $100, or $50 off $150 with code SUPER and pin 2382. Cashmere Sweater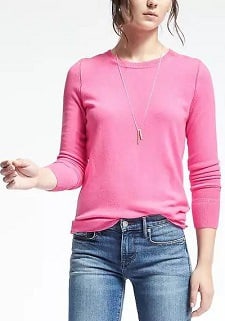 I was intrigued by the huge Todd & Duncan section of Banana Republic recently — it's an interesting collaboration given that Todd & Duncan is generally known for quality, colorful cashmere. This pink crewneck is one of Olivia Palermo's picks, but the sweater also comes in six other colors, in sizes XS-XL. (Note that if you're looking for something more affordable but similar, BR's store-brand cashmere sweater is very colorful and only $68.) Pictured: Todd & Duncan Cashmere Crew
Readers, what brands and stores are your favorites for affordable cashmere for work? Which cashmere sweaters do you like to wear to work the most?
Like this feature? Check out other recent installments!
This post contains affiliate links and Corporette® may earn commissions for purchases made through links in this post. For more details see here. Thank you so much for your support!
Pictured below, clockwise: black / cream / navy / blue.