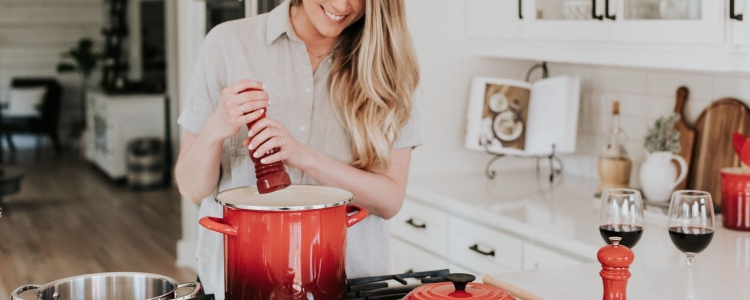 We haven't had a recipe-share post in a while, but I've seen a lot of discussion in the comments, so let's discuss! What are you looking forward to making this fall? (Have your stock recipes changed if your in-office work schedule has changed — for example, are you trying more recipes that call for 4-6 hours of cooking versus being only interested in all-day crockpot recipes?)
Some of my favorites are below… all images/Pins via the blogs.
This post contains affiliate links and Corporette® may earn commissions for purchases made through links in this post. For more details see here. Thank you so much for your support!
We are a participant in the Amazon Services LLC Associates Program, an affiliate advertising program designed to provide a means for us to earn fees by linking to Amazon.com and affiliated sites.
Psst: Here are some of my favorite pans and devices for cooking — I've added some notes throughout the post on what I like and why.

Great Basic Fall Recipes
Kalyn's Kitchen Sesame Chicken Broccoli: We make this with chicken breasts or pork tenderloin and serve it with white rice. We did buy black sesame just for this recipe, but to be honest I don't notice a huge difference from the regular sesame seeds. (If you don't have a rice cooker, you're missing out — the rice is perfect every time…)
Ina Garten's Panko-Crusted Salmon. Big thanks to whichever commenter suggested this; we love it! It calls for a cast iron pan and requires broiling, but that can be really heavy if you're serving a group — it's almost as good if you just cheat and bake it on a cookie sheet for a while.
Melissa D'Arabian's Fish Picatta: Really easy and tasty. Hmmn, it might be even better if I put it in the air fryer instead of a pan — I'll have to try that. (I just got this Cuisinart toaster oven/air fryer, but have been using this one for the past year or so.)
Creations by Kara's Really Good Crockpot Roast Beef: So juicy; it never fails. We often add sliced mushrooms to the crockpot and serve with mashed potatoes. I have had various newer crockpots over the years (and have somehow been gifted TWO Instant Pots) but the one we use the most is the super old one with a ceramic/stoneware insert.
Amazing Soups and Stews
Emily Bites' Sausage and Tortellini Stew: (SO good!) This is where I learned that if you add low-fat cream cheese to broth, you get something much creamier.
Gal on a Mission's Zuppa Toscana Copycat Soup: (Sometimes we add potatoes as well as cauliflower, but you should make sure to cook them in broth for 10-12 minutes to make sure they're cooked.) We've made this in the crock pot, but we've also just made it on the stove in a Dutch oven — I feel like it dirties less dishes that way. (I have a 3qt Creuset and a 6qt Lodge, and I use the Lodge — all of the kale and cauliflower can be really voluminous until it cooks down!)
(Speaking of avoiding dirty dishes, I love using a food scale to measure out ingredients instead of tablespoons and cups — it's more accurate, and you don't have to wash hardly anything!
Maangchi's Kimchi Stew: We cheat with this one a lot and make it with pork tenderloin and regular chicken or vegetable broth. I did just buy some anchovy broth tablets, though, so I'm excited to try it this fall. (I got mine at Costco, but it looks like there are plenty of anchovy broth tablets on Amazon.)
Vegetarian Options for Fall
These are both a little involved, but really, really good.
Purple Carrot's Roasted Sweet Potatoes and Beluga Lentils. We've cheated with this one and used goat cheese and regular lentils and it's been OK.
Gimme Some Oven's Roasted Broccoli and Farro Bowls: We skip the red onions.
Breakfast for Dinner
Lauren Fit Foodie's Healthy Sausage Gravy Breakfast Casserole: Weird but really good!