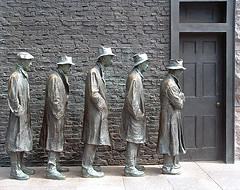 Reader S, a recent graduate, has a question that, unfortunately, I think a lot of people will be interested in: what should you do when the job hunt drags on (and on)?
May I suggest a post on attorneys who, despite trying everything feasible, cannot find sustainable employment? I understand the whole "work for free" thing, but those positions aren't available either because they're going to law firm deferees. This $130,000 monkey on my back is getting unbearably heavy. I'm nearing my wit's end, and maybe you and your readers will have some good advice.
I'm sorry you're going through this right now — a job hunt is hard enough, and the school debt is only making it harder.  (Pictured: Queue for job, originally uploaded to Flickr by le Haricot.)

First, I'll say the obvious things…
– Let everyone you know know that you are looking for a job. I would say that "once every three months" is an acceptable time to revisit the subject — so if you haven't mentioned it to people in a while, start bringing it up again. Be upbeat about it, if possible — let them know how you've been spending your time, what experience you've gotten since you last spoke about it — and be clear about what they can do for you. A great way to be clear is to let people know who you're looking to meet — for example: "If you know any hiring partners, job recruiters, or even industry leaders (who may hear of job openings), please consider introducing me — I'd love to get their perspective on what I can be doing better in my job hunt." Another question you might consider asking them: what skills should I be trying to add to my resume?
– Stay connected with your school's career office — they may have a mailing list of jobs, networking events, and more. Furthermore, they may be able to connect you with alumni who meet the description of the people you're trying to meet.
– Attend as many networking events as you can. I've recently attended a number of events where people have mentioned their job hunt — in their big introduction to the "group." I've seen this at Meet Up events, City Bar committee meetings, and even special "women in __" luncheons — it's a great way to get the word far and wide and make the most of your networking event. If money is an issue (either because the event is expensive or, because, well, the events add up), contact the organizer of the event. Let him or her know your situation, and see if they'll either let you pay half price or do some work in exchange for attendance (such as manning the registration tables — a great way to put faces to names, by the way). You may also want to inquire about the event's cancellation policy — they may have a policy (or be inspired to adopt one) whereby attendees who are canceling can "donate" their already-paid spot to you.
– Follow up with people you meet at events — create relationships. (The real secret to job hunting is that jobs inevitably come from relationships, not job lists or things like that). Try to make friends with the organizers of the event if you can; not only will they hear of job openings but they may also be able to introduce you to people who are hiring.
I know, this is all easier said than done, but there it is. As things continue to drag on, though, here are a few other tips…
– Keep an open mind about your career. What did you want to be when you were a kid? What might you want to be if the law career doesn't work out? Would you ever consider owning your own business? One of my favorite monthly reads is Inc.
magazine — it's always inspirational to hear stories about how someone started a multi-million dollar empire with just a few hundred dollars (such as Eileen Fisher). And for $4.97 for annual subscription, it's one of the cheapest things you can do today to help your career. You might also discover an entirely new career that you hadn't even thought of. If you're already going to networking events and brushing up your skill set, it won't hurt to keep YOUR big picture in mind.
– Pursue new skills as cheaply as you can. For example, see if you can sit in (without enrolling in) a class on accounting, or marketing, or programming. Get books out of the library to learn the skills yourself, or use online resources such as Google Code University. Learn a language such as French by getting books or tapes out of the library; perfect your skills by joining a wine club or other Francophile-related event where folks strive to speak French. (More networking!)
– If your unemployment has run out, you may want to consider places like Fiverr, Upwork, and more — many people are seeking virtual assistants and freelance, project-based work, and it may help you contribute to your bottom line while still being flexible enough to go on job interviews and to networking events. (However, if you're depending on your unemployment check: Be sure you know what the rules are — sometimes consulting/freelance work is fine; other times it's viewed as self-employment.)
– You may want to read the book Your Money or Your Life: 9 Steps to Transforming Your Relationship with Money and Achieving Financial Independence: Revised and Updated for the 21st Century
— in addition to advice about how to cut expenses, it does a wonderful job of reframing that whole career/job/money conundrum.
This post contains affiliate links and Corporette® may earn commissions for purchases made through links in this post. For more details see here. Thank you so much for your support!
Finally: Stay as positive as you can. Exercise. Eat right. Get (and give) hugs. Seek laughter.
Readers, what are your best tips to folks who have been hunting a job for 6+ months?
(Check out more of our interview advice here, including our guide to interview suits and our advice on "what to wear when you're laid off and looking.")

We are a participant in the Amazon Services LLC Associates Program, an affiliate advertising program designed to provide a means for us to earn fees by linking to Amazon.com and affiliated sites.