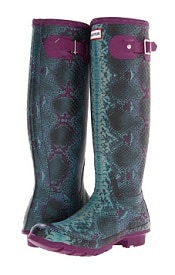 What do you wear to keep your feet dry during summer showers? Do summer rainboots exist? Reader P wonders.
A shoe question for you – what are the best shoes to wear when commuting in hot summer rain? I usually wear my tall Hunter rainboots fall through spring, but they're way too hot for muggy +80 degree summers. Are plastic flip flops okay? They seem most functional, but I feel so weird wearing them with a suit or work dress. Is there something in between?
I'm curious to hear what the readers say here. As I think I've mentioned before, I hate having wet feet — here in New York you can easily and unexpectedly wade into a puddle (including in a covered place, like the subway) that's half a foot deep, if not more. I'm a huge fan of my Hunter rainboots for cooler months (pictured), and honestly I still pull out my rainboots if the weather is at all cool (up to 75 degrees or so, probably), but with kneesocks instead of tights. I don't have them, but these "topless" knee socks from Spanx look perfect for wearing boots with bare legs — they're thin, and leave no elastic mark beneath your knee.
Summer rainshowers are different, though — no one wants to wear a pair of knee-high plastic boots when it's 95 degrees. My usual commuting shoe, the flip flop (I hate to admit that!) is also unsuitable for wet weather, in my experience — the footbed of the shoe always seems to get too slippery for me in the rain, and the last thing I want when it's pouring is to go go slowly and carefully. So my usual go-to outfit is:
a skirt or dress (so I don't have to worry about wet pantlegs)
a pair of actual shoes (preferably maryjane or ankle strap wedges) that will stay on my feet if I'm hurrying/running, and either be an acceptable fashion choice for the rest of the day or at least fit the "I won't be embarrassed to run into a coworker in the elevator" requirement.
a small (but strong) umbrella to try to keep my shoes as dry as possible.
I will say that I just got a pair of the Sexi Flip Crocs (mostly to play with my son at the local water park) and, as rubber shoes go, they'd be fine for commuting shoes — but I still wouldn't want to step into a city puddle in them. (I also wouldn't want to wear them on gravel or anywhere that small stones might get stuck in your shoe. On a slightly more professional side, these rubber shoes from Crocs (pictured — I particularly like the ankle strap and the $40 pricetag) look like they wouldn't be horrible for running around town and would be fine commuting shoes. If a strap isn't important to you, then there are, of course, a growing number of companies that make rubber ballet flats, including Crocs and Oka B.,; the Zappos page devoted to jelly shoes for women shows you can get even Kate Spade New York and Stuart Weitzman shoes in a rain-friendly jelly.
Readers, what do you wear to keep your feet dry when it's raining in the summer? Do you just wear kneesocks with your regular rainboots and chalk it up to bad weather, or do you have a separate shoe or system for hot weather?