2018 Update: We still think this is a great round up of the best tees for layering under blazers, cardigans and more — you may also want to check out our more recent discussion about stylish tops for under suits.
Sure, we all know what basics professional women are supposed to have in their closets, but if you're buying one for the first time or replacing one you've worn into the ground, it can be a pain to find exactly the right incarnation in stores. In "The Hunt," we search the stores for a basic item that every woman should have.
Which are the best tees for layering under blazers, cardigans, and more? What qualities do you look for in a work-appropriate t-shirt, how many do you own, and how long do you expect your tees to stay looking new?  
We haven't had a discussion on the best tees for layering for work in a while, so let's revisit some of the basics, at least for my $.02. First, t-shirts make a great layering piece because they're washable and generally no-fuss (such as tops requiring ironing).  
Furthermore, a work t-shirt should be something designed to be seen — you should be able to take your blazer off during the day without worrying that it's see-through, clinging to your bra, too low cut, tattered or torn, or otherwise too casual.  
Personally I think any pockets will usually make a tee too casual for a conservative office, as does a wider rib trim at the neckline — I love my relaxed slub t-shirts for the weekend, but I think a slub knit or linen blend would make it too casual for work, as would a pattern like a space-dye.
Finally, while a tank top can be great for certain situations, it isn't always the best for layering for two reasons — first, it won't necessarily be appropriate to wear by itself at your office (see our last discussion on whether going sleeveless is professional – know your office!), and second, it may necessitate more laundering and drycleaning than a t-shirt would because a t-shirt would cover your armpits and protect the top layer from sweat.
(But: if you want a seamless look and just want to add opacity/raise a neckline, a camisole for work, demi-camisole, or tank top is definitely the look for you.)
How about you, readers — which t-shirts do you think are the best tees for layering? Do you prefer to layer tees, tanks, camisoles, or something else beneath suits and blazers? What do you look for in a work-appropriate t-shirt?
Some of our Hall of Famers, the best-selling, classic styles that have been around for years, include: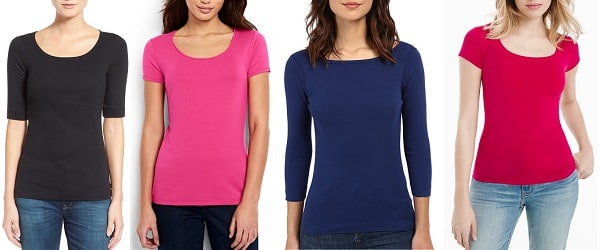 Above, great tees for layering: black / pink / blue / red.
Just looking for some t-shirts for the weekend? These are our favorites…
Above, some of the best weekend women's t-shirts: one / two / three / four
Today's featured tees for layering include:
Readers have extolled the virtues of Merona t-shirts for years — and the price is certainly right at $9 full price (right now you can get 2 for $16). Personally I've found them a bit too clingy, but the few I have wash up beautifully and still look new after several years of ownership. Also in this price range: Uniqlo's cotton tee ($.9.90.) Pictured: Merona Fitted Tee
I was intrigued to see Jean at ExtraPetite raving about the Express One Eleven line of tees lately, but their basic tee does look nice and it has a whopping 71 mostly positive reviews. It bill itself as "the perfect balance between fitted and draped" — a number of reviewers note that it runs large, so be wary of fit issues if you give it a try. Also in this price range: Banana Republic's classic stretch tee. Pictured: Express One Eleven V-Neck Skimming Tee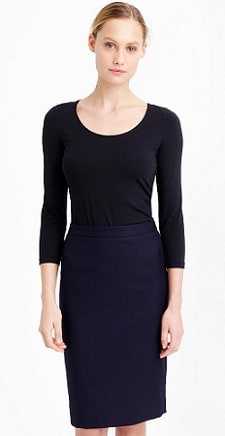 J.Crew's "Perfect Fit" tee was always a reader favorite on this list, but they've improved upon it by launching a "suiting t-shirt" just for layering, made from soft and seamless stretchy cotton. It's machine washable, available as a tank and a three-quarter sleeve top, with a nice high neckline. It's available in four neutral colors for $59.50 full price. Stretch Suiting T-Shirt
Talbots is another brand that readers have always loved for t-shirts (along with our Hall of Famers at top, of course) — but they keep switching up the styles of t-shirts. Right now they have two lines that look like good possibilities right now: the Refined tee (which is not getting very good ratings, alas) and the Platinum jersey line, which seems limited. Still, the pictured Platinum tee has a double layer front, is machine washable (lay flat to dry), and I like the slightly rounded V-neckline. It's $59.50; the pictured top is available in three colors. Platinum Jersey V-Neck Top
This short sleeve jersey tee from Layfayette 148 New York has been around for years, and it's always pretty highly rated. Right now Nordstrom has it in black and white (which one reviewer notes is that rare bird, an opaque white top), sizes P-XL. I like the neckline here — not quite a crew, not quite a boatneck, not quite a jewelneck. It's $148 at Nordstrom, but keep an eye on spots like Last Call and Off5TH (as well as flash sale sites) to see if you can get a better deal. Lafayette 148 New York Short Sleeve Jersey Tee
$345 for a t-shirt? Well, sure if it's Armani. Nordstrom has them in a number of colors, sizes 2-14, for $345. I like the ballet sleeves, the high, seamless neckline, and the stretch. Armani Collezioni Stretch Jersey Tee
Readers, what are your favorite tees to wear to work? Which do you find to be the best tees for layering?
Like this feature? Check out other recent installments!