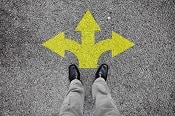 Do you close career doors when you take a specialized job?  How do you decide if it's worth the risk of closing doors behind you?  Reader A wonders:
How to decide when you are at a career crossroads, if a great opportunity comes up, but it might close doors. (My best friend just got a great offer to run a $50MM business, but it's an area that peripheral to her primary area of expertise, solar/wind, so she's worried about LT ramifications, even though she'd expand her skillset.) What factors are important when you are opening one door and closing another?
Great question, Reader A.  We've talked about pros and cons to changing careers, how to change careers, and how to use LinkedIn to secretly investigate a new career — but we haven't talked about closing career doors by taking a specialized job.  I'm really excited to hear what the readers have to say about this one, since obviously I've taken a career path (media law to fashion blogging) that has diverted me, a bit, from my original career path.
Here's my $.02:  I don't actually think doors are closed, even if you leave the career entirely.  Maybe I'm naive, but I think that if you keep up your contacts, stay up on the news in your original area, and — when you're looking — express specific interest, skills, and talent for the job that's open, you have a good shot.  I think particularly where you leave for a peripheral area, you're still building important skill sets that are related to the original field.
I think it's also important to note that nothing is entirely what it seems — the "general" job may leave you with knowledge that's too specialized to be of broad use.  For lawyers, for example, if you stay in a "general practice," you may spend years working on a specific case (or a few) that has very specific knowledge or a specific fact pattern associated with it.  You're still learning how to research and argue, of course, but you're not getting hugely general business knowledge. On the other hand, if you take a job in house for a company, yes, you'll deal with things related to that specific industry (let's say, the price fluctuation of widgets) but also general concerns (such as board members, employee drama, and managing outside counsel when you're sued for colluding on the price of widgets).  So your breadth of experience is actually wider after taking the seemingly smaller job.
Finally, don't forget the adage about God opening a window when life shuts a door — the idea being that if you go from Market X to Market X-sub-1, you may also find that Markets Y and Z are now open to you — even if X is closed.
The ONLY place I might be wary is if you're leaving a stable industry for an industry that might collapse entirely. I would worry that whatever "new" skills you're gaining would be soon obsolete, and worse, if the entire industry really does crash, the market will be flooded with people with similar skillsets, and your networking contacts might shuffle dramatically.
Two interesting posts on this topic (with differing viewpoints):
Readers, what do you think — when looking at your long-range career plans should you be wary of narrowing your focus, or changing careers entirely?  How do you evaluate it when you come to crossroads like this? 
Pictured: Gwoeii / Shutterstock.
—————
N.B. PLEASE KEEP YOUR COMMENTS ON TOPIC; threadjacks will be deleted at our sole discretion and convenience. These substantive posts are intended to be a source of community comment on a particular topic, which readers can browse through without having to sift out a lot of unrelated comments. And so, although of course I highly value all comments by my readers, I'm going ask you to please respect some boundaries on substantive posts like this one. Thank you for your understanding!