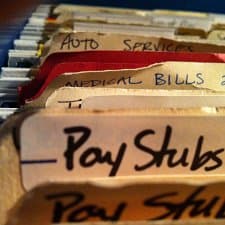 Ladies, we have a bit more than a month before (dunh dunh dunh) Tax Day. Are you done with filing taxes? (And, who is doing them?) Are you stressed about them? Are you looking forward to a refund? Are you nervous about how much you're going to have to pay?
For my $.02, I'm just starting to get stressed. I've used an accountant for as long as I can remember, but this is the first year I'm trying to use a bookkeeper as well. (I've never actually used TurboTax or similar software for filing taxes — my father may have used that when he "helped" / did my taxes for me my first year or two out of college.) But after law school, a friend recommended an accountant to me — this wonderful, older gentleman who I really liked. I had a simple tax situation at the time, and his services were, perhaps accordingly, pretty affordable.
When we bought the apartment in 2009, though, he nearly missed a major tax credit; thankfully we caught the mistake before we signed our taxes. When we started looking for a new accountant, we knew income from Corporette was making our tax situation more complicated, so we were ok to sign on with a fancier accountant who cost 4-5 times what my former accountant charged.
(Something else I learned when I switched accountants: estimated taxes aren't optional for business owners, which was something I understood after talking with my first accountant. Fortunately it wasn't a big problem since the extra income was so small back then, but it really drove home how much the first guy was hurting more than helping.)
Every year since signing on with my new accountant, he's sent us a huge "Tax Planner" PDF as part of filing taxes. It's about 50 pages long in tiny print and asks a zillion questions, and it's always taken me hours and hours to complete. This is the first year I'm trying to outsource the tax planner to a bookkeeper; my hope is that my reviewing it will take a lot less time than my doing it. (Gotta delegate, right?)
In terms of actual taxes, April 15 is usually pretty rough as a self-employed business owner because my retirement savings are due, to be invested in one huge chunk, usually; final taxes for 2015 will be due, which may be higher than what I paid the previous year in estimated taxes; and the first chunk of estimated taxes for 2016 will be due, using new numbers based on my 2015 taxes.
Those are three unknown numbers — and in the past we've had some nasty surprises where I needed a lot more in cash on April 15 than I had set aside. (Hooray for the emergency fund!) Now, after paying work-related bills, I earmark about 40¢ of every dollar I earn for month-to-month living expenses, and save the rest in Ally accounts that get 1% interest for taxes and retirement. I'll breathe a happy sigh of relief should April 15 come and go without too many surprises.
Ladies, how about you — do you do your taxes by yourself? Do you consider them complicated or easy? How did you find your accountant?
Further reading: