Today's reader question is pondering where on earth to get great trench coats for spring 2023:
Can you do a post on the best trench/raincoats? Post-covid people must all just stay home when it rains because there is not a good looking statement trench in all of Nordstrom, Banana or J.Crew. Where can I look?
Great question, because they can be tough to find. Readers, what are your favorite trench coats or rain coats to wear with work outfits?
Some Classic Options for Raincoats and Trench Coats for Spring
Burberry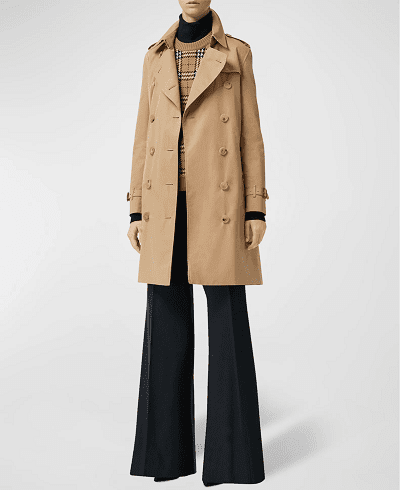 I mean, CAN we discuss spring raincoats and trench coats without going to the OG? Burberry trench coats will run you north of $2,000, but they're considered investment pieces by many. (Readers who have one, please weigh in with your thoughts — do you find them hard to clean? Are you pleased with how yours has held up?)
(Personally I'm not a fan of either double-breasted coats or the color beige — and having a hood is important to me — so for me this option has never made sense. But they're classic coats, and I see a lot to love but for those personal dealbreakers.)
The pictured coat (the Kensington) is $2,490 at Neiman Marcus.
Eddie Bauer
This Eddie Bauer classic has been the hands-down reader favorite for many years now. I have one and like it — it isn't the sleekest of looks, but the hood is nice and deep, it has two deep pockets on the side of the coat and one smaller one on the inside breast of the coat. Mine must be several years old now (maybe as much as many as five?) and really is not showing signs of wear.
The coat comes in regular (XS-XXL), plus (1X-3X), petite (XS-XL), and tall sizes (S-XXL); even the range of sizes is unusually great. The coat has been available in both basic and seasonal colors over the years; right now it looks like they only have black, navy, gray, and a brownish "redwood." It's $169 but frequently goes on sale.
(There's an insulated version of the coat also, which I've tried — for my $.02 I prefer the plain raincoat.)
This can be a slightly noisy coat because the fabric is stiff and wate-repellent, but it's a breathable fabric and really does keep you dry.
Other Options for Lightweight Spring Jackets
Looking around the stores at the moment, I see what this reader means — there are a bunch of boring trench coats, some fun toppers (without hood or weatherproofing), and lots of jackets that look like you're en route somewhere that is NOT the office (the gym, the barn, etc.)… Finding a sleek, polished look for work is tricky.
I've picked out some of my latest favorites below — this lululemon coat might be among my favorites for those who want a hood, while this Ted Baker one has a glamorous trench look to it (but no hood).

That said, I'd love to hear from the readers! What raincoats and trench coats for spring are you wearing with work outfits? Are you as worried about fitting a blazer underneath your jacket as you might have been in years past?
Stock photo via Stencil.