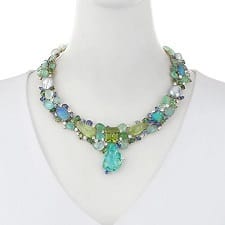 Jewelry for the office: fashion or fine? Is fashion jewelry or fine jewelry more appropriate for the workplace — or is it a know your office situation? Is there such a thing as everyday fine jewelry, other than an engagement ring? Does price and taste enter into it? (Bonus question for the bottom of the post, too: would you wear the pictured necklace to work? Would your answer change if you thought it cost more or less than your home?) Here's Reader A's question:
I'm an avid reader of your blog and I have a question for you. :) I read your 2012 jewelry post and was wondering if you had advice on fashion vs fine jewelry in the office. I work in a very casual office (uggs are not out of place even on senior management) but the executives tend to dress sharp and polished. However, I've never seen anyone wear pearls or gemstones outside of their wedding rings. Are fine jewelry styles only appropriate in formal offices?
Very interesting question. I do suspect this is a "know your office" situation, but I'm very curious to hear from the readers because I'd love to know which kind of jewelry you prefer to wear to the office, fashion or fine.  First, some definitions for purposes of discussion today…
Fashion Jewelry for Work
"Fashion" jewelry, as I understand it, means it's generally made more from manufactured pieces instead of natural pieces. There's a huge range of prices for fashion jewelry — everything from a mall store like Claire's or Charming Charlie, to BaubleBar or Fragments stuff, to some more expensive costume jewelry like Kate Spade, Alexis Bittar, or more, which may involve real gold or silver but with non-precious stones such as  turquoise or druzy quartz, or plastic.
Fine Jewelry for the Office
"Fine jewelry" generally means it's made from real gold, silver, platinum, rhodium or another premium metal, instead of merely being gold-plated; it may also involve diamonds or harder stones like rubies, emeralds, or sapphires. (But note that these days a lot of those "precious stones" are man-made in a lab, so the line gets blurred.) A lot of stores have completely different shopping sections for fashion and fine jewelry — and brands may have a different line for fine jewelry, as well.
Now: Which Is The Best Jewelry for the Office: Fashion or Fine?
So I think my answer is… well, somewhere in the middle.  While I do think this is a "know your office" situation, I think for most offices you want to identify the "my skin is turning green because I'm wearing cheap metal jewelry" end of the spectrum of your jewelry collection, and then identify the "oh nooooo did my $100,000 diamond necklace blind you when it caught the light?" end of the spectrum of your jewelry collection, and wear to work the jewelry that is soldily in the middle of that spectrum. And, as I've noted in the past about building a jewelry collection for work, I think you generally want to avoid bling and noise with your jewelry — if it's Very Sparkly (whether it's druzy or diamonds) or Very Noisy (no matter how many thousands of dollars you spent on your arm party), you should know your office very well before you wear it to work. The middle of the spectrum may include "good" costume jewelry like Kate Spade or Kendra Scott, or no-name jewelry like the J.Crew bubble necklace that was everywhere a few years ago, or even some of the fun necklaces you may pick up at spots like BaubleBar, Fragments, Macy's, or wherever.  The middle of the spectrum (for you, or for your office) may include everyday fine jewelry like a Cartier watch, a real pearl necklace, or even a right-hand diamond ring.
There's No Accounting for Taste — or Is There?
I wrote this entire post and then went off looking for a fun, blingy piece of jewelry to use to illustrate the post — and the necklace I'm choosing to feature kind of inadvertently makes another point: taste comes in all price points, too. To my eye, I would think this was an inexpensive, fun necklace — when in fact it is $675,000 (affiliate link). Would it be acceptable to wear to work if it were $15? Is it less acceptable to wear to work if it is $675,000? (Or is this the middle of the spectrum for the woman who owns this necklace?)
Readers, what do you think is the best jewelry for the office: fashion or fine? Have you had Feelings about wearing one or the other to work — such as feeling so inappropriate in a meeting with the huge 2″ agate cocktail ring you thrifted at the flea market near your law school that you took it off and put it in your suit pocket before (you hoped) the VIP partner noticed? (No? Just me then?)
Social media pictures credit: Pixabay.