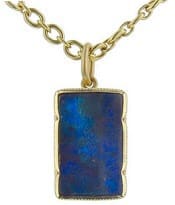 In our ongoing discussion on The Next Step — i.e., how to upgrade various areas of your life — a reader suggested we discuss how to upgrade your jewelry collection, and how to buy jewelry for work in general. Excellent idea, and I'm curious to hear what people say. (I swear, I intended this to primarily be an open thread — but it turns out I have a lot of favorite designers I just HAD to look up and link to.) Note that I've talked about my own jewelry for work, and we've had excellent guest posts on how to buy jewelry for other women, as well as a 411 on different jewelry terminology (different metals, pearls). In other posts in this series we've talked about upgrading your bag collection, upgrading your shoe collection, how to upgrade your work wardrobe, better personal services for busy women, and how to buy grown up furniture.
For my own $.02, here is how my own jewelry buying has looked through the years: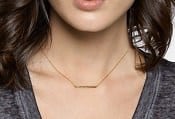 Step 1: Cheap, fun jewelry. Think Claire's. Think street jewelry in NYC. Think jewelry at mass market stores like Gap, Loft, and H&M. (TJ Maxx can also be great for this, as can the sales racks at department stores like Macy's.)  I'm also going to put Bauble Bar and its ilk in this category, although they can cross boundaries. IMHO, this is jewelry that is best bought as the mood strikes you — you're shopping, you see something pretty, and yay, now you have a new necklace. If you WERE to plan a shopping trip to one of these stores, though, I might look (for work outfits) for a long metal necklace, a short pendant necklace, a short round metal necklace, a statement necklace with big stones, perhaps in white or clear (for maximum versatility), and probably a pair or two of huggie earrings.   Pictured: Slim Bar Pendant, available for $34 at BaubleBar.
Step 2: Thrift store jewelry, indie jewelry, and nicer, mass market "fashion" jewelry. Pricewise, this bucket can go anywhere from $50-$500 — but note that most of it is not real gold or gemstones.  Thrift store and indie jewelry can be just as inexpensive as stuff in the first bucket, but the variety is much wider — I credit this step with helping me form some of my jewelry tastes. I would suggest looking into consignment stores, flea markets, and more — preferably in the nice areas near you.  In terms of indie jewelry, Etsy can be such a fun rabbit hole to go down; there is a ton of beautiful, affordable jewelry there. (Readers, any favorite Etsy shops?)   "Indie" isn't quite the right name for it, but there are some smaller, affordable jewelry brands that I would include in this bucket, usually curated from places like Shopbop, Anthropologie, or Max and Chloe.  (Some favorite brands in this bucket: Kate Spade New York, Alexis Bittar, Kenneth Jay Lane, Kendra Scott, House of Harlow, Ten Thousand Things, Gorjana, Maria Chavez, Maya Brenner, and Dara Ettinger (who I know from Shopbop and Outnet but OOOH, her Etsy page seems to be entirely on sale.)   For my money, I'd rather collect pieces from some of the smaller brands — but I will note that for work jewelry, you may find it safer and easier to peruse the "nicer" jewelry offerings from regular workwear brands such as Brooks Brothers, Ann Taylor, Banana Republic and J.Crew. (Pictured: Alexis Bittar 'Miss Havisham' Link Bib Necklace, available at Nordstrom for $195.) 
Step 3: Real gold and/or better gemstones, often categorized as "fine jewelry." Pricewise this can be anywhere from maybe $150 and up.  For me this took two paths:  first, buying "nice" silver jewelry like Elsa Peretti at Tiffany's or their Key collection (super popular a few years ago!), as well as upgrading my rings and earrings to "better" gemstones like garnet (my birthstone), onyx, opal, and so forth. I have at least one sapphire necklace, but I don't think I've purchased anything with emeralds.  With the exception of a few silver pieces bought at Tiffany's, most of my fine jewelry collection (including my favorite diamond earrings and right-hand diamond ring) has been purchased at Macy's or other department stores.  Gemvara has a huge selection of birthstone rings, and places like Reeds are also great places to look. I think the BULK of this category for me is non-branded stuff (i.e., the fine jewelry country at Macy's, which I'm sure is designed by a lot of different people), but there are a few specific brands I think of, particularly along the lines of silver and gold jewelry: David Yurman, John Hardy, Cartier LOVE bracelets, and Stephen Dweck; I would also put Michele watches in this bucket.  (Pictured: David Yurman, Renaissance Reverse Set Bracelet with Moon Quartz, available at Neiman Marcus for $2750.)
Step 4: Estate jewelry, and independent designers working with better metals and gemstones. Pricewise, this can be anywhere from $500 and up.  Full disclosure: I've never bought estate jewelry, because I just don't feel like I know my stuff well enough to justify the prices — but there are some amazing, amazing pieces; online it's fun to look at spots like Belladora and Doyle & Doyle.  In terms of modern fine jewelry designers, this has largely meant my drooling over brands like Alexis Bittar Fine, Irene Neuwirth, Annette Ferdinandsen, Repossi, and Ippolita. (My absolute favorite place to go if you're in this step: the jewelry department at Barneys. Online, I love drooling over the curated collection at Ylang 23.) Pictured at top of this post: Irene Neuwirth Square Boulder Opal Charm, available at Ylang 23 for $3,040.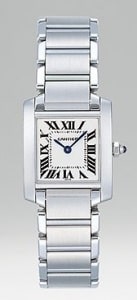 Step 5: Everyday, but Very Expensive jewelry.  I originally wrote this post and lumped this stuff in with the final bucket, but let's face it: there's a difference between a $100,000 diamond bangle and things like a watch you wear daily, an engagement ring, a great set of diamond post earrings, and a pearl necklace.  For work jewelry I am of course in favor of a professional watch and a quality pearl necklace. I'd suggest starting your search in person at a shop like Tourneau; the jewelry counter at a department store like Saks or the flagship store (of Cartier, for example) may also be helpful. Pictured: Cartier Tank Francaise Stainless Steel Small Bracelet Watch, available at Saks for $4,300.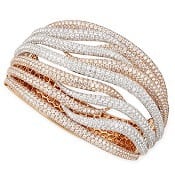 Step 6: Serious fun.  When friends come to New York to shop, I often ask them: what's your budget? Do you actually want to buy stuff, or do you just want to look?  If it's the latter, it can be so much fun to go to the absolutely insane jewelry stores and look at necklaces that, you know, cost more than your college education.  Personally I think of brands like Cartier, Bulgari, Mikimoto, Tiffany's, Harry Winston — but there are so many more, as well as no name places that exist in the Diamond District.  Online you're not going to find a lot in this bucket — how gauche! — but Neiman Marcus, Barneys, and Net-a-Porter might be places to start. Pictured: Roberto Coin, 18k White & Rose Gold Fantasia Pave Diamonds Crossover Bangle, 27.47 TCW, available at Neiman Marcus for $110,000. Of course, before wearing any Very Expensive jewelry to work: know your office. It's probably in poor taste to wear your $100K necklace while visiting your pro bono client; we've also talked about being judged for wearing too big of an engagement ring, as well as getting sexist comments regarding your shopping habits.
Readers, what has your jewelry buying progression looked like? Which brands have you bought when you started out; which brands are you drooling over for when you win the lottery? 
—————
N.B. These substantive posts are intended to be a source of community comment on a particular topic, which readers can browse through without having to sift out a lot of unrelated comments. And so, although of course we highly value all comments by our readers, we're going to ask you to please keep your comments on topic; threadjacks will be deleted at our sole discretion and convenience. Thank you for your understanding!