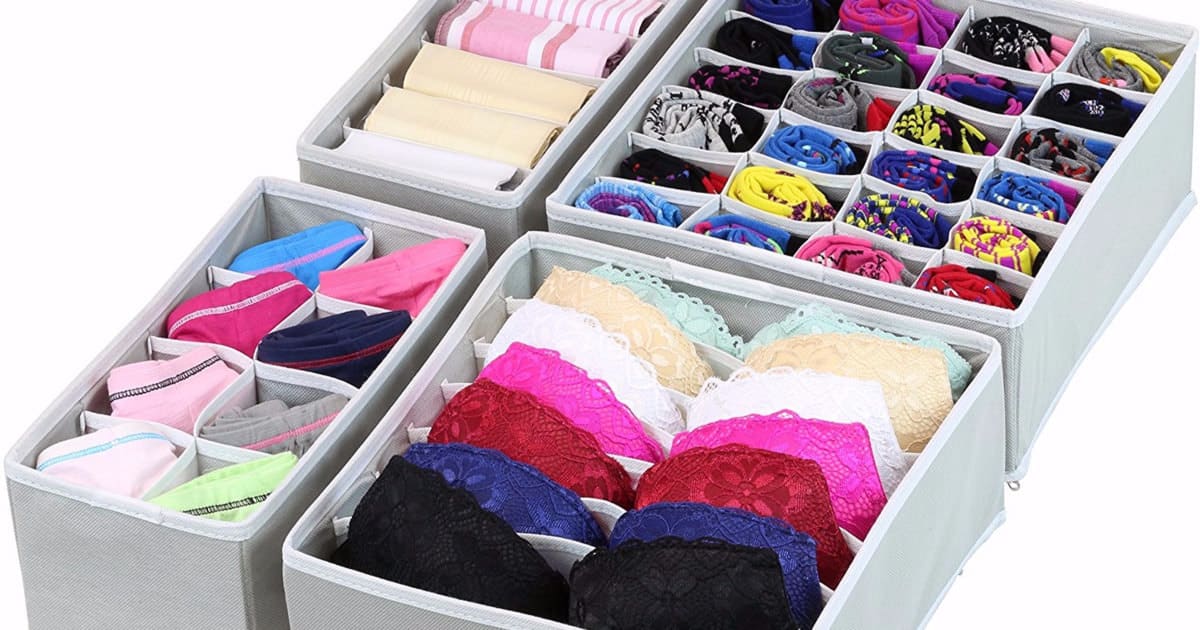 Here's something we haven't talked about in far too long: what's your favorite lingerie for office looks? Which are your favorite bras, panties, slips, and other unmentionables to wear with work outfits? What's your go-to lingerie for work?
How much does your office lingerie differ from your weekend lingerie? (And, does anyone organize them as neatly as this lingerie drawer organizer, pictured, available at Amazon for $13?)
Psst: these are all the best-selling bras that readers love as of 2020!

This post contains affiliate links and Corporette® may earn commissions for purchases made through links in this post. For more details see here. Thank you so much for your support!
For my $.02, these are general guidelines for the best lingerie for office looks:
The best lingerie for the office is unobtrusive — I've always preferred simple t-shirt bras, with no seams or lace. (To be honest the seams bug me more than the lace!) Some women would put "light padding" in the list of requirements for office lingerie, so as to hide any "headlights" — but I say know yourself.
Go simple for any lingerie that might be seen (such as a camisole you're wearing to raise the neckline of something), you want it to be simple — avoid mesh, lace, and other boudoir influences.
Fit is key! Regarding bras: at no point during the day should you have what I call "the quad boob look" — if your bra is cutting into you so it looks like you have four breasts, odds are good your bra is too tight.  
Keep in mind that most of your support should be coming from the band, not the straps — know also that if your straps keep falling off your shoulders you can either get them tailored or even buy lingerie just for petite women.
(See more tips regarding fit in our post with style tips for busty women.)  Regarding panties: yes, your panties can be too tight, and no, it isn't a good look.
Psst: Below, some of our favorite no-show women's underwear as of 2021 — if you're definitely looking for thongs try Commando, Hanky Panky, or Under Armour! Pictured: one / two / three / four (not pictured but also: Soma!)

2020 Update: Looking for the most comfortable bras for working from home? These are some of my favorites, as noted in our roundup of the most comfortable bras for working from home:
Some of my personal favorite lingerie:
Psst: As of 2021, some of our favorite foundational garments include this line of waist-shapers, these comfy shorts to prevent chafing while wearing skirts without hose, this full slip for wrap dresses and shirt dresses, this half-slip to prevent clinging, these pantyhose, and this bra.
Readers, let's hear from you — what's your favorite lingerie for office looks? What is your favorite lingerie in general these days? Here's an easy thing to cut and paste, if you care to play along:
Bras:

Regular/office looks
Dates:
Comfort:
Workout:
(Sleep, if you wear a bra for sleep):

Panties:
Shapewear:
Other:
Psst: In the past, we've talked about the best underwear for eliminating VPL, shared tips for bra care as well as workwear style tips for busty women, and of course wrote the Guide to Pantyhose for Work.