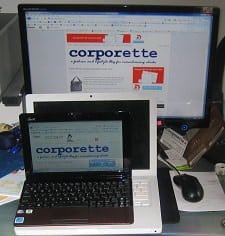 How many devices do you have? Does having multiple devices
boost your productivity
— or just add to the feeling of being overwhelmed? Reader A has an interesting question:
So I was wondering, how many pieces of technology do you and your readers have? I am increasingly getting overwhelmed by it all. I have a desktop both at home and at work of course, then an iPad, then a MacBook Air, then my personal iPhone, and my work iPhone!! Too much I am thinking. So, if you had to ditch one (or more than one), what would it be? I would think the home desktop; yet, it is a pain to connect remotely to my desktop at work from my laptop or others. What then?
Interrrrrresting question — I've talked about my being
overwhelmed by information
, but not about device overwhelm. I'm curious to hear what readers say here, but I may have some solutions for you to help prevent device overwhelm… (That said, if possible I would ditch one of your two iPhones if at all possible — but if you've maintained two for so long I'm guessing it's because there is a valid reason for it, and of course 
work/life separation
is important.) There's a lot of interesting reading about how having 
different devices can actually boost your productivity;
as this
Wired
article describes, it helps you focus by associating certain tasks with certain screens. (
Question for the hive:
does anyone have a multiple-monitor setup? How do you like it?) Here's how I use this method:
I use my desktop almost exclusively for daily blog stuff.
I use my laptop (which doesn't do well without a power cord) as a standing workstation (I just set it on top of our credenza), usually when I'm opening a zillion bookmarks and shopping for TPS reports or the like.
I use my iPad for work email as well as for focused writing with my Bluetooth keyboard. (OK, I also use my iPad for fun web surfing while watching television.)
I still use my netbook for work whenever I travel. (It's very clunky but gives me a PC experience.)
I'm pondering getting a Kindle because I've learned that I simply do not read books and other long-form things on my iPad but would like something to bring to my bedside table. (Although really, if I could find the cord for the Orbo my son hates I could use that as a Kindle!)
That said, I do depend on a few different services to keep everything aligned among my devices, and I highly recommend them if you're feeling overwhelmed.
Readers, what are your thoughts: Do you like having multiple devices for productivity or work/life separation reasons? Or do you just feel overwhelmed by too many devices? What apps or services do you use to keep your devices aligned (or distinct!) with one another? 
—————
N.B. These substantive posts are intended to be a source of community comment on a particular topic, which readers can browse through without having to sift out a lot of unrelated comments. And so, although of course we highly value all comments by our readers, we're going to ask you to please keep your comments on topic;
threadjacks will be deleted at our sole discretion and convenience.
Thank you for your understanding!