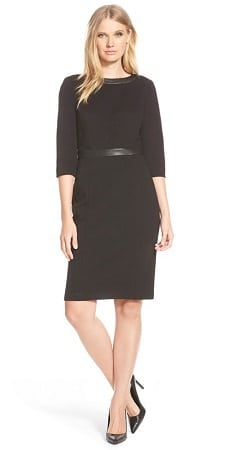 Networking dinner attire can be tricky. But if you're a business student on a budget — and soon to be job hunting — the question is that much harder. Reader K wonders…
I'm a student in my last semester of business school and I have some networking dinners to attend in November. Could you recommend something to wear- preferably on the cheaper side (i.e., under 100)?
It is always so frustrating trying to figure out what to wear to these things! I'm curious to hear what readers say. We've talked about the tricky subject of wearing business casual for networking events, as well as what to wear to an interview dinner, but not in a while. So let's discuss.
Some thoughts on what to wear:
A sheath dress with sleeves. Sheryl Sandberg, Michelle Obama, and zillion news anchors have made this, in many ways, the default thing to wear to an event, and I think every woman should find at least one dress that fits the bill. Pros: You can dress it up or down. Wear the dress with a blazer or by itself. With classic pumps or, if weather is bad, with rainboots or snow boots. (FWIW: I would wear classic pumps to the event itself, but if the evening of the event brings lousy weather I would probably wear boots to the dinner and change at the coat check (or leave them in the car or whatnot). Cons: Heels usually look best with such dresses, but if you're not comfortable with them, stick with interview-appropriate flats. In November you definitely have to wear something on your legs, which brings us to the pantyhose question — I would probably wear off-black hose because they're darker than sheer (avoiding the whole "are they nude for me" question), less ostensibly sexy than black hose, and less casual than black tights. (It's worth noting, though, that readers in the past have disagreed, noting that dark hose are too sexy/boudoir and that sheer, nude-for-you hose are the most professional choice.) For the dress, look for: sleeves, pockets (so you have somewhere to stick a business card), a slit that isn't too high, a hemline that hits at or just above your knee, a solid, color in a fabric that will wear well. A few options: Classiques Entier (pictured above, but a bit pricier) — for more affordable options check Ellen Tracy (in petites also), Ellen Tracy (has pockets), Talbots (has pockets, also in plus sizes and petites). Last Call also has a few options under $100. Avoid: buying a dress in a clingy fabric, one with a detail you don't like from a 360 view (such as an exposed zipper or a high back slit), or a dress without sleeves unless you know exactly what blazer you want to wear on top — I think cardigans really dress down dresses, particularly for networking events. A note on color: A solid, neutral dress (black, navy, gray) will be the most versatile and the easiest to wear to a number of events without looking like you only have one networking outfit. That said, a colorful, solid dress, such as this Ellen Tracy, can be a fun way to stand out from the crowd while still looking appropriate. Either way, I'd stick with a solid dress, as printed, work-appropriate dresses are tough to find on a budget.
Trouser pants with a thin sweater or blouse topped with a blazer. Pros: I'm always more comfortable in pants! They're easier to wear with flats, and finding pants with pockets (for business cards or whatnot) are always less difficult. Cons: It's a lot harder to hit the right note here. Sometimes this combo can look frumpy, sometimes it can look amateurish; sometimes it's too dressy for the event, sometimes it isn't dressed enough for the event. Another con: if the weather is lousy and you have to walk outside at all, odds are high that your hems might get wet, which stinks.
Suiting separates. Pros: You can take the blazer off and make the outfit more casual. Plus, you're definitely business appropriate. Cons: You may be too dressed up for the event (particularly if guys show up with just button-front shirts and pants), which can hurt if you're interviewing with a firm that wants "people with personality!" or some other amorphous request.
For all these reasons, I would probably stick with a simple sheath dress… but that's just my $.02. I would note that for a woman on a budget, adding a conversation piece to your attire — an interesting cocktail ring, or a statement necklace, or even a fun pair of pumps — is a good thing because it gives you a versatile piece that you can wear a lot, while also giving you SOMETHING to be noticed for at the event and stand out from the crowd. I'm always particularly fond of cocktail rings for networking because you're often holding a glass or something while networking anyway, so rings are easily noticed — they're also great because if you find your ring is too much for the event, it's easy to slip it off and put it in your bag.
Ladies, what is your go-to outfit for networking dinners? Do you prefer to have your clothes stand out, or stay neutral for the most versatility? Have you attended any networking dinners where you noticed someone's clothes in a negative or positive way?