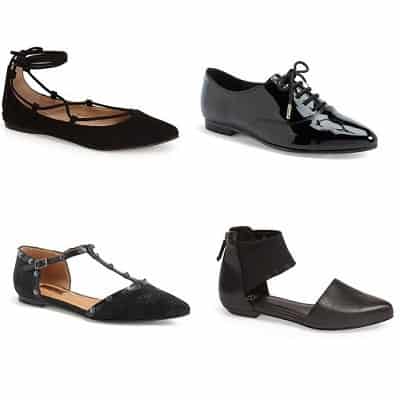 2018 Update: We still stand by this advice on how to wear flats in winter — you may want to check our more recent discussion on cute flats for the office for more updated brand and style options.
In cold weather, what are the best ways to wear flats to work? With socks? Tights? Reader E wonders how to wear flats in winter…
Could you recommend some ways to style flats for the winter? In years past I have worn skirts and opaque tights with pumps or booties in cold weather (I don't live in a particularly cold climate), but earlier this year I decided to give up on heels altogether because of some foot problems I've been having. I'm happy with my flats for summer looks, but ballet flats just look so odd with tights to me. I'm hoping for some better style ideas! What flat shoes work best for winter looks? Thanks!
Great question, Reader E — and even though it still feels kind of warm outside, the cold will be upon us in no time. (Winter is coming!)
We've talked about wearing flats all the time, as well as interviewing in flats, but not in a while. Obviously you can just wear flats where you would have worn pumps, but if you can't walk in flats with tights (I can't!), or if you feel like something is off with the silhouette, then we need to dive a bit deeper.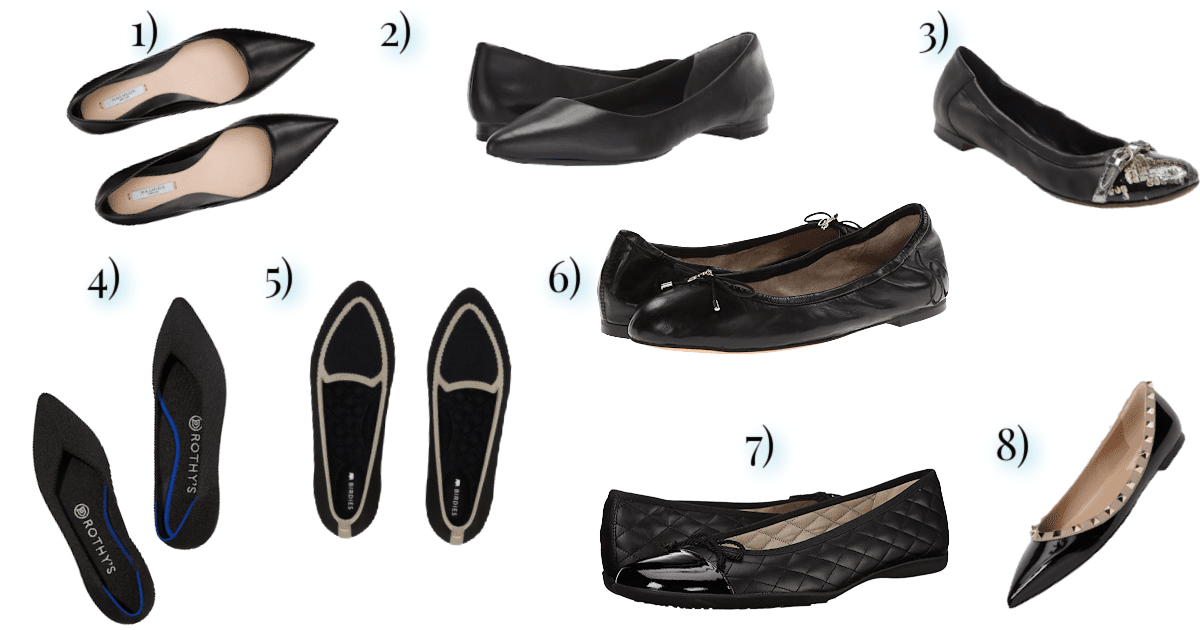 I'm curious to hear what readers think, but here are some of my thoughts:
Know your best silhouettes, both based on your own body type as well as your clothes. On my own body type (curvy), I think some silhouettes inherently look better with a bit of a heel — for example, a pencil skirt or a sheath dress — but on others they look great with flats. This is partly trial and error on your part; go with your comfort level. Notice which styles are flattering when you wear the flats and clothes you already have, and then make adjustments to your wardrobe from there.
Know the appropriate hem lengths. If your pants are hemmed for heels right now, you may have to get them hemmed again for flats — even with flats you don't want anything dragging on the ground, because your pants will suffer.
Reconsider the bare-feet-in-flats look. We've talked about what you can't wear in winter, and it's also important to "know your office" and your region well. In New York City, wearing flats with bare feet would only work up until November or so at the absolute latest — walking, even just to or from the subway with exposed feet and ankles, just isn't doable… and there are a million other cute options.
Stylish srappy flats can be hard to find! As of 2023, these are some of our favorites — also, in general, check J.Crew and Valentino (on the pricier side, obviously).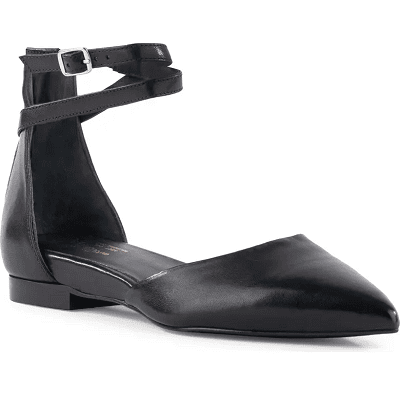 For flats with tights and a skirt: Look for strappy flats (unless I am the only weirdo who can't walk in flats in tights — some nice current options pictured below), short booties, calf-high booties, knee-high boots (but know your office), and over-the-knee boots (but really know your office). Some points:
Hunting for black knee-high boots? Here are some of our long-standing favorites as of 2023!
Try to match your tights to your shoes if possible (but see our old thoughts on what tights to wear with navy).
If possible look for booties with a slight dip in the front, which is usually a million times more flattering, even with tights.  (…and I can't for the life of me find an example that is totally flat. These 2″ heeled booties from comfort brand Mephisto might be a help to you, though; this low Eileen Fisher bootie with cutouts also looks cute….)
For flats with socks: This comes back to the bare-feet-in-winter conundrum, but for milder temperatures, note that it's becoming more acceptable to keep your ankles exposed by wearing low, hidden socks with your booties. Another trend: wearing slouch socks with booties. Of the two I tend to think the first look is sleeker than the second, but common sense obviously has to play a part here.
For really cold weather when bare ankles would just look silly, try fleece tights, which have been hugely popular with readers recently, perhaps for just this reason. They offer a great middle ground because your legs are warm, you look like you have common sense, and you can still wear your flats and be comfortable. Another great look (also trendy): flared trousers. Note that a slight point to your boot or flat (at least) tends to look best with flared trousers, and know where the hem should fall. (It should graze the top of the vamp, leaving about 1/2″ of your flat heel showing in the back.)
Try commuting in different shoes. It's 100% acceptable to commute in different flats; after all, slush, snow, road salt, and rain can damage your shoes (and not feel so great on your feet — or tights, yuck — either). Rainboots, snowboots… it's all acceptable (but see our older posts on colors, as well as when to change out of your commuting boots). The trick is twofold: for commuting shoes you want to get a functional look that, even if it's a bit uglier than what you normally wear, could actually fly in your office if push came to shove (so skip the Minnie Mouse rainboots, for eample). The second trick is to make it look as if your final office look COULD have been worn outside — you never want to look like you're dressing for a Miami summer when it's a Northeast winter.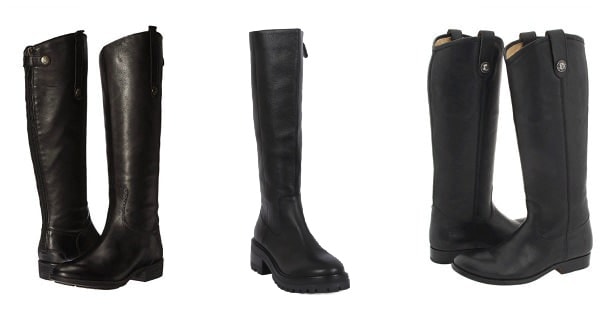 Pictured: great knee-high boots for commuting to work: one / two / three
For those of you looking for strappy flats to wear with tights, here are some of our latest favorite options…
Stylish srappy flats can be hard to find! As of 2023, these are some of our favorites — also, in general, check J.Crew and Valentino (on the pricier side, obviously).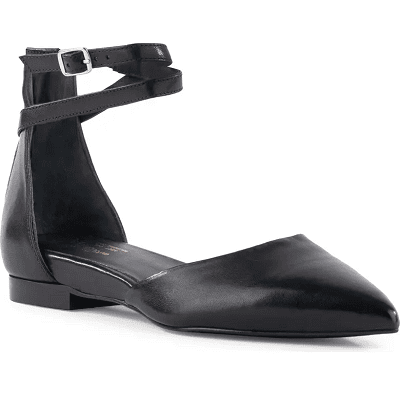 Oxfords and loafers are both options as well — here are some of our latest favorites:
These are some of our latest favorite loafers, oxfords, and other closed-toe shoes — these $130 loafers are incredibly highly rated (see also)!

Readers, what are your thoughts — what are your best tips on how to wear flats in winter? What are your favorite flats to wear this winter, and which silhouettes do you like to wear them with the best?