What are your best tips on how to pack for a one-day business trip? Today I'm excited to welcome back guest poster and blogger extraordinaire Road Warriorette, who's been nice enough to give us helpful tips on traveling with coworkers and professional but small suitcases. We actually just met IRL not too long ago for a lovely dinner. :) Today, she answers Reader A's question about packing for one-day business trips. Welcome back, Road Warriorette!

Reader A wonders:
Do you or your readers have suggestions for how to pack for a day trip in another city? I am going to start a new job that will require frequent day trips where I will fly to another city in the morning and fly back at night. I prefer not to take too much stuff, but I do want to be prepared in the event that I get stuck overnight. I need my laptop for the trip and am on the hunt for an appropriate bag for day trips and for client visits in my own city.
People who never travel for work are always surprised at the number of day trips I take. On the one hand, it makes sense — if you are only doing one day's worth of business, why pay for a hotel room? On the other hand, they are often exhausting, 18-20 hour marathons. It seems I am always on the last flight out, and a few times have gotten stuck spending the night somewhere unexpectedly.
After years of business travel, I've realized it's not worth it to me to pack anything extra on a day trip. Hotels have everything from toothbrushes to curling irons, and the slim chance that I may get stuck is not enough of a reason to bring a bunch of probably unnecessary items. However, if your employer would not pay for a hotel and you think you would have to spend the night at the airport, there are a few basic toiletries I would keep on hand.
Contact solution/glasses
Toothbrush/toothpaste
Face wash/moisturizer
Travel deoderant
Rubber band or bobby pins
Makeup
Obviously you could purchase these at virtually any airport, but if your employer won't pay for a hotel room it's doubtful they would reimburse you for toiletries. A tiny bag of critical items won't take up much room and could save you a lot of headache. Bring the smallest amounts you can manage — put the face wash and moisturizer in a clean contact lens case and bring a Wisp or other disposable toothbrush. I already bring my makeup on every trip so I can freshen up when I arrive. (This list is actually very similar to what I keep with me during international trips.) Of course, if you take any medications daily always have an extra dose or two just in case.
This post contains affiliate links and Corporette® may earn commissions for purchases made through links in this post. For more details see here. Thank you so much for your support!
These are some of the Corporette readers' favorite items for business travel…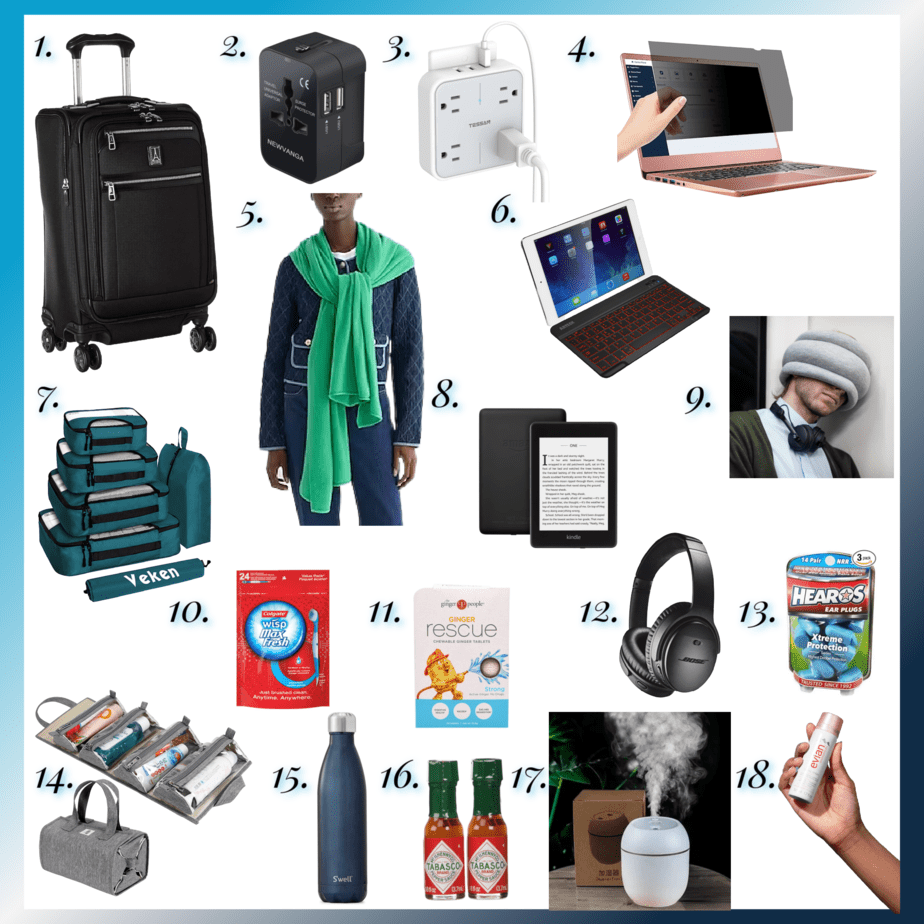 As far as clothes go, I honestly don't think it's necessary to bring any extra clothes. If you get stuck overnight, you can wear the same clothes the next day. Just hang them up while you're sleeping to give them a chance to air out. However, if it's super important to you to have something just in case (and you have the room) a spare tee and pair of undies should do.
Which bag you choose for a one-day trip is very important. Because you are fitting everything into one bag, it can get heavy very quickly. I highly recommend a rolling briefcase for day trips. That way you don't risk injuring your shoulder carrying around an enormous bag.
Readers, do you take day trips often? What's critical to keep on hand in the event of an unexpected stay?
2020 updated images via Deposit Photos / TarasMalyarevich.
We are a participant in the Amazon Services LLC Associates Program, an affiliate advertising program designed to provide a means for us to earn fees by linking to Amazon.com and affiliated sites.