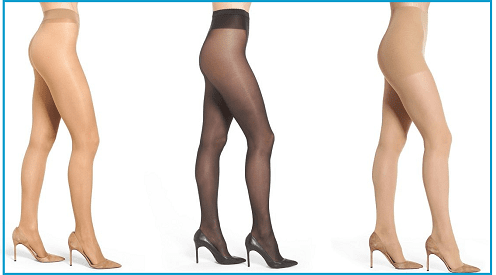 2023 Update: Hunting for pantyhose for work? These are some recent reader favorites! one / two / three
Update: We still think this is an interesting discussion of pantyhose and dresscodes — but you may also want to check out our more recent Guide to Pantyhose for Work or our discussion of how to wear pantyhose in summer.
Do any workplaces exist that still require pantyhose to be worn year-round in the summertime? Reader K wonders.
I love your site, but I need to call b.s. on something. Whenever the annual "should I wear pantyhose to the office" question comes up, invariably there are a few comments that go something like "my friend's friend's firm requires them even in the summer."

I mean this is 2013, right? I have never actually met someone in real life who this is true about. I think it's just anonymous urban legend.

Now, I am not talking about going to court in front of a judge. That's totally possible. And I'm not talking about something that's written into a dress code where the culture is that no one actually follows it. What I'm talking about is a bona fide, enforced pantyhose requirement in the office, year-round including in the summer.

Here's the challenge: can you seriously name even one law or accounting or financial firm that enforces pantyhose in the office, even in the summer?
We've talked about when to wear pantyhose, how to wear pantyhose, and what color of pantyhose is best, but Reader K's question is interesting: does any dresscode actually require it? (Pictured: Spanx's 'All the Way' Sheer Support Pantyhose has 32 mostly positive reviews on Nordstrom (where the Anniversary Sale is coming soon, FYI)…)
I actually have heard of places that require pantyhose, albeit not in a few years — even worse, it's often required even beneath pants. (Dunh dunh dunh.) Some professions (flight attendants, for example) have to wear hose as part of their uniform, as well.
Obviously, pantyhose continues to be a huge industry, so someone's wearing it really regularly. (Sara Blakely, the founder of Spanx, is one of the youngest self-made billionaires, and her early pitches to companies were all about how full-leg Spanx looked great beneath pants!)  Also, Evil HR Lady (via US News) tackled whether your boss can legally require you to wear pantyhose.
So, ladies, let's hear from you — is anyone willing to name an office that does require pantyhose at all times? Do any of you wear pantyhose daily (or work with women who do), whether it's required or not — or is pantyhose really just a Big Event (interview, first day, court, big meeting) kind of thing these days?
Psst: if you're looking for body makeup, these are some of our favorites as of 2022…

We are a participant in the Amazon Services LLC Associates Program, an affiliate advertising program designed to provide a means for us to earn fees by linking to Amazon.com and affiliated sites.