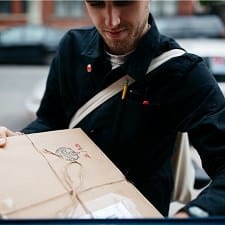 2018 Update: We still stand by these best practices for returning items bought online — but you may also want to check out our more recent discussion of how to track refunds so you get your money back on returned purchases.
I sometimes like to ask myself, what are my core competencies? What am I really good at — an expert in? Ladies, you're in luck: I am an expert at returning items bought online. (I'm maybe a bit of a shopping bulimic, and while I'm not proud of this, it's just kind of where I am in my life right now.) I have my own little system for how I return items bought online, and I'm curious to hear: Ladies, do you have any other systems or hacks for returning items bought online? Another question here: What's your understanding of the etiquette of returning stuff? Let's bypass the question of whether I'm being a jerk by buying a lot of stuff and then returning it — I feel like return policies were created to address this question, after all — but I do try to make things as easy as possible on the person handling the return at the other end.
So here's my system for returning stuff online (starting from the moment you've decided what's staying and going).
Mark the return codes as the store wants you to. For some stores (Nordstrom, Amazon, Zappos) you can do this all online and get a neat little printout — but for some stores you have to retain the packing label. (I often print to PDF so I have a record of what I'm sending back, but also so that I can easily reprint if there is some printer failure.) Sometimes they want you to fill out a bunch of stuff on the back of the form, in very small table format — I usually skip that and circle the stuff I'm returning on the packing label itself, writing the return codes next to it. (My theory here is that no one wants to read my little scribble if they can read the same information printed). If I don't have a digital copy of what I'm returning, I snap a quick cell phone picture for my own records.
Separate your items, and fold neatly. For some stores (Nordstrom, Lands' End, Gap) I may be returning items that were either purchased in different orders or shipped with different packing labels. If this is the case, I will often get clean plastic bags to separate the items, putting the matching returns sheet into each bag of merchandise. For what it's worth, I do try to fold everything neatly — but I also assume that they will steam everything on the other end. Obviously all tags are still attached, but I don't always return things in the clear plastic bags they come in (particularly the hanging bags that Nordstrom sends — if anyone has a good trick for getting the item off the hanger without totally ripping the bag I'd love to hear it). It seems to me there is a lot of variation in how something is packed based on who is preparing the package for shipping — I've gotten t-shirts on hangers and blazers folded — so I usually skip hanging things back up unless it's really easy to do with the box I'm sending back.
Find a blank box, and pack the box securely. I've found this out the hard way: the post office will only either send a) a completely blank box, or b) a box bearing a logo for the place it is going to. So: don't try to send a Nordstrom return in a box with Amazon tape (or be really careful about crossing out all other logos before getting to the post office.) First: try to remove all other stickers on the box, as best you can — if anything is left, X it out with the black Sharpie. (This includes stuff the post office may have scribbled on the box itself, like apartment or street numbers, etc.) If the old tape on the box is very raggedy, I remove what I can, but I usually just tape over it. Then, I tape the box up. If it's a very heavy box I do the "around the world" special with the packing tape where you start on the top of the box, take the tape to the side then the bottom, then pull it up taut around the other side and back to the top of the box where you started.
Keep a record of tracking numbers and more. Before mailing, we take quick cell phone pictures of the return label (whether it's the one the company provided or the one we bought at the post office) — I say "we" because my husband is often nice enough to return my boxes to the post office for me!
Know what to expect on your cards, and when. My final step: I make a note in Remember the Milk (my preferred app for to-do lists) to say, usually, "due 3 weeks Nordstrom return $X + $Y + $Z." I often do it like that because the returns often seem to go back on my credit card in accordance with the original order, not the return. I recently had a Banana Republic/Gap/Old Navy return where we had bought things from all three stores, using three different promo codes (as you do) and possibly even "SuperCash," and I could not for the life of me figure out how much money I was expecting back when the "get $25 off $50" deals were factored in. It all seemed to work out fine in the end but it kind of felt my quant skills were lacking.
All right, ladies, let's hear from you: What is your system for returning stuff bought online? Do you prefer to return stuff at the store or by mail? How do you remember when money is supposed to be coming back to you, or otherwise check to make sure that the return went ok?
Pictured: Death to the Stock Photo.