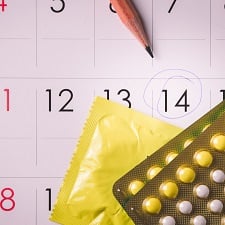 What are you all using for birth control these days? We thought that a good companion to our discussion earlier this year about how to decide if you want kids would be a roundup of the best birth control options in 2018, so that's our topic for today. (We've also talked about planning your career for babies and shared the planner's guide to pregnancy and in general have had many posts about family planning and pregnancy, including a guest post long ago from a reader on why she chose an IUD).
Over at CorporetteMoms, we recently explained what to consider when choosing birth control after having a baby — but whether or not you've had kids doesn't have a huge impact on your contraceptive choices. Dr. Melissa Gunter, MD, an ob/gyn in Rochester, NY, says, "There is no method that is off-limits based solely on whether or not you've had a child."
In addition to pointing out that the best type of birth control for you right now may not be the most appropriate choice for you a year from now (or five), Dr. Gunter recommends that you first decide on your must-haves for your ideal birth control: "Is it the method that you are least likely to get pregnant on? Then you want a Nexplanon [contraceptive implant] or IUD," she says. "Is cycle predictability important to you? Then a pill, patch, or ring may be better. Do you prefer something which will also regulate or level out your reproductive hormones, or do you prefer how you feel with your own natural hormonal ups and downs? Do you want something you never have to think about, or are you OK remembering to pick up prescriptions and take your birth control every day, week, or month?"
Keeping those factors in mind, here are some of the best birth control options in 2018:
Birth control pill
The combination pill (estrogen and progestin) is 99% effective when used exactly as directed — but with typical use, it's more like 91%.
The pill can bring lighter periods, milder PMS symptoms, a reduced chance of ovarian cysts, clearer skin, and other benefits (as well as certain side effects, such as nausea, headaches, bloating, and breast tenderness — although some side effects may be only temporary).
It's generally considered safe for healthy, non-smoking women over the age of 35 to take the pill (but that's for you and your doctor to discuss).
Late last year, a new study confirmed previous studies' findings that the pill increases women's breast cancer risk — and, of course, it made big news. How should women interpret these findings? "For most women, birth control pills will have a greater cancer benefit than risk," says Dr. Gunter. "A woman who uses birth control pills, especially if used for 10 years or more, may reduce her risk of ovarian cancer by up to 50%. Endometrial cancer risk is also reduced in women who use birth control pills, especially for women who are obese or have irregular periods." Gunter also notes that while 1 in 8 women will be diagnosed with breast cancer, the pill doesn't significantly change a woman's risk, and added, "Much of the data about breast cancer risk and birth control pill use comes from women whose pills contained higher doses of hormones than most currently prescribed options."
Just because the pill is the preferred contraceptive among many women, that doesn't mean you have to give it a try, Dr. Gunter says. "Many women still feel like they need to start with birth control pills first, and only switch to something else if they are bad at remembering the pill — while the pill is great for some women, there are plenty of other, easier-to-use methods," she says.
IUD
IUDs are extremely convenient and are 99% effective. Once they're in, you don't have to do anything other than remove or replace them in 3, 5, 7, or 10 years (depending on the type).
"IUDs are safe and effective whether you've had children or not," says Dr. Gunter, "however, some of the newer IUDs were specifically tested in teenagers and women who've never had babies before they received FDA approval."
ParaGard, the copper IUD is the only non-hormonal IUD. It can cause irregular, longer, and/or heavier periods, while the hormonal IUD (Mirena, Kyleena, Liletta, and Skyla) can lead to lighter periods (sometimes much lighter) and can make your cramps milder. Gunter stresses that hormonal IUDs work differently than other hormonal birth control — like the copper IUD, they prevent sperm from reaching the egg. "Other forms of hormonal birth control [prevent] a woman from releasing an egg," she says. "The hormones in the IUD stay in and around the uterus, whereas the hormones in a pill, patch, ring, shot, or implant go all throughout the body. So a hormonal IUD will not help with cycle predictability, acne, PMS, ovarian cysts, or ovulation symptoms."
While getting an IUD placed can cause discomfort, especially if you haven't had a baby, it only takes a few minutes. (Here's some information on easing the pain, from … another Dr. Gunter (!) — in this case, Jen.) The insertion and removal of an IUD is the same for both types.
Condoms (male and female)
Male condoms are 98% effective with perfect use — but with all use taken into account, they prevent pregnancy about 85% of the time.
Condoms are the only birth control method in this list that can prevent STDs — and they're a great choice if you want a non-hormonal option, too.
If you or your partner have a latex allergy, other options are available. And whether you or not you're allergic to latex, you can choose female condoms, which are made from nitrile and are about as effective as as male condoms (95% with perfect use vs. 79% in real life).
Permanent birth control
The old standby, tubal ligation, is more than 99% effective. If you're a young woman who doesn't want kids, though, it may be difficult to get some doctors to take your request for sterilization seriously.
Essure, a non-surgical procedure that blocks the fallopian tubes with metal coils and is 99% effective, will soon no longer be available.
For a woman who doesn't want to get pregnant (either again, or ever), the safest and most effective permanent birth control option is a vasectomy for her partner (more than 99% effective); however (perhaps not surprisingly), the vasectomy rate in the U.S. is about half of the rate of tubal ligations.
Newer options
This month, the FDA approved the first vaginal ring contraceptive that can be used for an entire year: Annovera. It won't be available until at least late 2019, so stay tuned.
The FDA also allowed marketing of Natural Cycles, the first app that can be used to prevent pregnancy (although that's caused some debate — including worries about privacy concerns).
And what about birth control for men? A recent CNN headline announced, "Male birth control pill one step closer to reality, researchers say." Again, stay tuned…
Two excellent websites for finding out more about any of the options above, and about the other types of contraception, are Planned Parenthood and the NIH website Medline Plus.
The information shared in this post should not be taken as medical advice. Please talk to your doctor. As Dr. Gunter says, "Every woman is tuned differently, and our bodies also change over time. We have all of these choices for a reason, so discuss with your doctor which birth control method is the best for you, and don't be afraid to switch to something else if you are no longer happy with the method you are using."
What is your preferred type of birth control? How long have you used it? What have been the pros and cons of the birth control you've tried? If you've switched, what were your reasons? If you're married, did you change birth control methods when you were no longer single? If you've had kids, did you decide on new birth control after becoming a mom?
Stock photo: Deposit Photos / jes2uphoto.