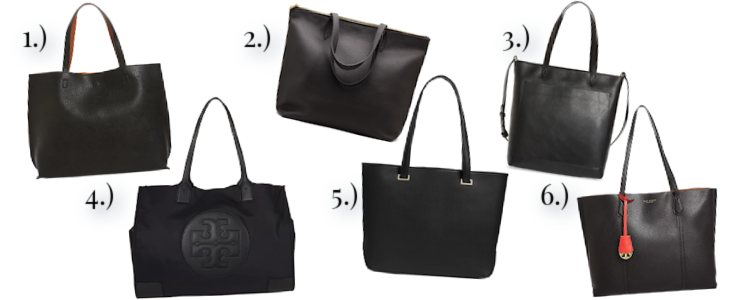 Sure, we all know what basics professional women are supposed to have in their closets, but if you're buying one for the first time or replacing one you've worn into the ground, it can be a pain to find exactly the right incarnation in stores. In "The Hunt," we search the stores for a basic item that every woman should have.
This is how I see the perfect interview bag: it's big enough to fit your folder, a notepad, and everything you would normally carry in your purse, as well as maybe a bottle of water. It's large, but not so large that the interviewer fears you're hoping to crash on the couch in the lounge.
This post contains affiliate links and Corporette® may earn commissions for purchases made through links in this post. For more details see here. Thank you so much for your support!
I always like a black bag (sure, even with a navy suit), and for me, nylon is perfect because it doesn't get as heavy as a leather bag, and nylon is very easy to clean. (Another bonus: if you accidentally swing around too fast in the elevator, the bag won't turn lethal.) Oh, and it has to hold its shape by itself (so to me, not a Pliage bag, although those are great for other things).
If this sounds familiar, forgive me — I think I go on the hunt every August for the perfect tote bag, and it always amazes me how hard it is to find these suckers online. I think I've rounded up some good ones for today's Hunt, though — check 'em out below.
Readers, what is your ideal bag for interviewing? Have you found any good ones lately?
Update: Our Latest Favorite Candidates for The Perfect Interview Bag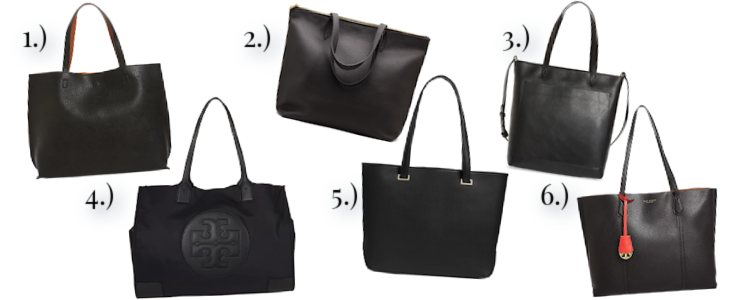 Some of the below products are probably sold out by now, unfortunately!
Curious for other versions of this roundup? Here they are from 2021, 2018, 2017, 2016, 2014, 2014,  2013, 2012, 2011, and 2010).
I'm not familiar with Knomo, but I like the quilted nylon with this expandable bag (shown collapsed, here), the deep red lining, and the laptop sleeve (although I would argue one shouldn't bring a laptop on interviews, but that's me). This one is $129 at Zappos, but note that eBags has it in red and purple for $79.99. Knomo – Bayswater – Marina E/W Zip-Around Expandable (Black Nylon)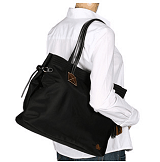 I'm not a huge fan of the white stitching on D&B bags or the brown leather accents, but these bags are very well reviewed on Zappos (there's also a black/brown combo and a navy/black combo.) I do like the hot pink lining, the expandable gusset, and the really intelligent pockets. This bag is $148 at Zappos. Dooney & Bourke – Victoria (Black/Black)
I actually have a different Mosey bag for my Mom days, and I've been really pleased with the quality. The bags are made from "low impact leather and recycled PET fabrics," and 35 plastic bottles were repurposed in the making of the handbag. It only has 3 stars on Zappos, but most of the negative ones seem to be about the incorrectly listed dimensions. It's available in black, purple, red, brown, fern green, dark gray and sand beige for $158 at Zappos. Mosey – Working Girl (Jet Black)
I'm not a huge fan of logos on bags, but that can be remedied easily enough: just turn the bag so the logo doesn't face "out." I like the high shine patent accents and the technology pockets inside (although I do wish it had a colorful lining). It's $195 at Nordstrom. Tory Burch Nylon Tote
I've admired MZ Wallace bags for years, but never owned one — but these are classics. I'm a fan of this bag, which has minimal hardware and pockets compared to the other MZ Wallace bags — but I love those interesting folds and the red details on the leather trim. It's $385 at Nordstrom. M Z Wallace 'Bea' Satchel
OK, OK, I know I said I didn't like leather tote bags… but c'mon, look at this one. Love the generous strap drop (9″ will fit over even winter coats), and the patent ribbon and bow is just enough to make the bag interesting without being fussy. It's $448 at Nordstrom. Kate Spade New York 'Helena' Tote
Like this feature? Check out other recent installments!