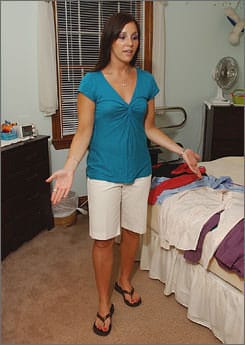 2022 Update: I still agree with my advice in this post, but you can also check out our latest discussion on what not to wear to work. 
So there's this great piece on USA Today about how "business casual" can be confusing to some people — this one 24-year-old PR executive was shocked (shocked, we tell you!) when she wasn't allowed to attend a meeting dressed in Bermuda shorts and flip flops.
So I thought it might be fun to have an open-thread today about what attire makes you really raise your eyebrows. Obviously, every office is different, but I think we can all do a public service by listing which garments and accessories someone might want to think twice before wearing.
For my own list:
Any shorts (or any pants that are less than full length — ankle-length pants and capris will be questionable at some offices!)
Flip-flops (whether they're plastic or leather, rethink)
Sandals of any kind; peep toe shoes are also often questionable at the most conservative offices
Tall boots (even knee-high used to be questionable, but over-the-knee styles are definitely questionable)
Anything that is overly noisy in the hallways (flip-flops are the primary offender here, but other things qualify also — corduroy pants, for example)
Denim, or items cut like denim (e.g., 5 pockets) — cords, khakis, etc.
Lace or sheer clothing
Sleeveless tops or dresses (worn without a cardigan or blazer on top)
Any item that can be worn to the gym (sneakers, yoga pants, terrycloth wristbands, large shapeless t-shirts)
Anything too short, tight, or low-cut
Readers, what "think twice" list have you compiled from your time at the office? Any fun "I couldn't believe she wore that" stories that you'd care to share?