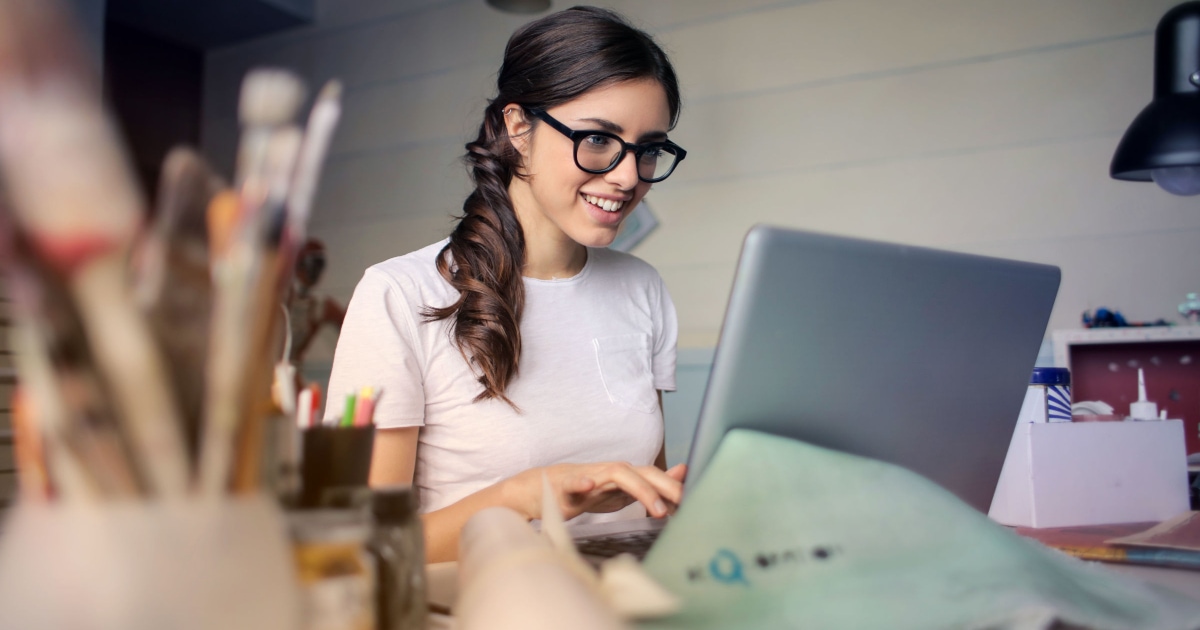 2020 Update: We've updated these tips on what to wear to work from home (including a roundup of the most comfortable bras to wear to work from home) — you can see all of our work from home tips here!
Everyone's eyebrows shot up when The Wall Street Journal suggested that instead of sweatpants, you should be wearing proper office clothes to work from home. You may be wondering: what specifically does the WSJ say I should wear to work from home? Is it like comfortable workwear for late nights, the kind of stuff you wear when you suspect you'll be stuck at the office for hours and hours past your usual quitting time? Comfortable magic pants for work that feel like pajamas but aren't? Maybe, you think, it's the kind of stuff that we here at Corporette have suggested you might consider wearing to work on the weekend if you're supervising people — fleece blazers and jardigans and things.
Um, no. This was what the WSJ suggests you wear to work from home, and Twitter had a field day with it.
No, you shouldn't be wearing sweatpants to work—even when you work from home https://t.co/hgL0g3xJMJ

— The Wall Street Journal (@WSJ) November 21, 2018
I kind of feel like the phrase "slacks" might apply. (Should we be wearing pantyhose under the slacks as well?) And I love that they show the purse in there — like you should be walking around your home with your purse so you can complete your look. Total dollar value of everything pictured there: $4,195.
I mean…
We've talked a lot about comfortable workwear, as well as how to set up the best home office and (over at CorporetteMoms) we've discussed mistakes to avoid when working from home. But we haven't actually talked about what to wear to work from home, so let's discuss. Readers who work from home all or most of the time — what do you wear to work from home? Readers who work from home sometimes, what do you wear to work from home?
This post contains affiliate links and Corporette® may earn commissions for purchases made through links in this post. For more details see here. Thank you so much for your support!
What I Wear to Work From Home on Solo Days
Even though we have a small team at Corporette (me, Kate, April at CorporetteMoms, and a few others for occasional/part-time work), we conduct almost all of our correspondence via Slack, email, or telephone — so it really doesn't matter what I wear for anyone but myself. Personally, I don't notice a huge difference in productivity if I'm "dressed" versus if I'm in, say, workout clothes. As I kind of got into in our discussion on makeup looks for different occasions, my work-from-home look has slightly shifted from when I worked from home occasionally to now, when I work from home all the time:
When I only worked from home occasionally, this generally meant "no makeup." When I started working from home all the time, though, I struggled with this a bit because I had read all this stuff about how if you're working from home you should "get dressed as if you're going into the office," and it conflicted with my previous "no makeup" mentality. Even if I had successfully completed a workout, if it was just me, why should I put on makeup? It all came down to "who am I wearing makeup for anyway"? … What I've settled on lately for ease of application but a bit more polished than absolutely no makeup is sheer lipstick like a Chubby stick, blush, undereye concealer, waterproof eyeliner, and occasionally a liquid shadow. The routine takes me about two minutes, maybe less.
So "looking dressed" for me involves a 2-minute makeup routine and basically weekend wear in terms of clothes — jeans, cords, leggings-as-pants, maybe occasionally a super easy dress. Simple jewelry. No heels. (The only difference with my actual weekend wear is that, during the weekend itself when the kids and I are around each other all day, I may wear more easily washable stuff like fleece tops from Gibson (affiliate link) or actual sweatshirts.) My daily work from home look is a little bit more relaxed from my "business casual" look when I was a staff attorney at a non profit, but that's only because my "business casual look" at the time was the more comfortable end of my "conservative law firm attire" — much of what I wear now, I would wear to a business casual office.
I've found I vastly prefer clothes with pockets to work from home — these are some of my favorites.

Pictured (affiliate links): leggings / sweater / pull-on jeans / athletic leggings with pockets / stretchy jeans
You can see more of our What to Wear to Work From Home Hall of Famers at this tag.
Looking for the most comfortable bras for working from home? These are some of my favorites, as noted in our roundup of the most comfortable bras for working from home:

Pictured above: gray / black / white / navy / pink
Prefer to wear actual denim around the house? These are some of our favorite jeans in 2020:
Below: 1) Paige 2) Madewell 3) Topshop 4) Wit & Wisdom 5) Levi's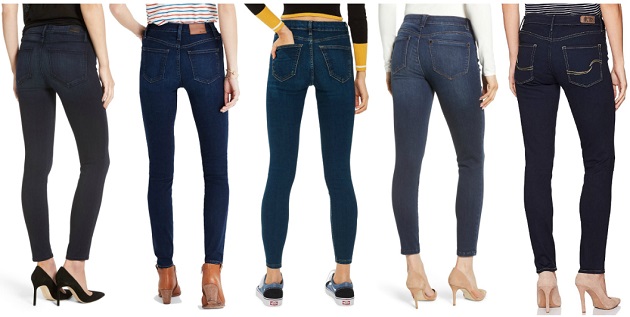 What to Wear to Work From Home If You're Video Conferencing, Supervising People At Home, Or More
I think these situations are entirely different cans of worms, and I'd love to hear from people who do it often. (I've actually been meaning to write a separate post about what to wear for video conferencing.) Some quick thoughts:
If your work from home includes videoconferencing, think about what will be visible in the video. I know a lot of women who wear "personality glasses" as a way of minimizing makeup needs, and that can include work from home purposes — if you have a big pair of Warby Parkers on and your hair in a bun or otherwise pulled back it's an acceptably studious look. I always think a collar looks nice, so consider having a cardigan with a shawl collar, a comfortable blazer somewhere nearby to throw on before your videoconference, or even the crisp collar of a blouse. A simple necklace goes a long way towards framing your face or finishing your look. You also want to think about what will be on view behind you, of course — if you're working from your bedroom, try to angle the camera so it's not facing your bed or the huge pile of clothes on the chair that you keep meaning to hang up. (Just me?)
If your work from home includes supervising others, consider a stricter interpretation of business casual. For example, I've heard of some lawyers who are either solo practitioners or the sole firm representative in their city, and they may work in their home with a paralegal or other assistant, either on a daily basis or an occasional basis. Every relationship is different, of course — these tend to be highly personal situations, after all! — but I would urge you to consider being on the more formal side of things. For example, instead of ripped skinny jean leggings or yoga pants, wear knit ponte pants like NYDJ or the beloved Eileen Fisher magic pants.
Readers, over to you — what do you wear to work from home? Would you wear the WSJ's outfit? Do you feel more productive if you're dressed in business casual for the day?
Pictured at top and on pin: via Stencil.