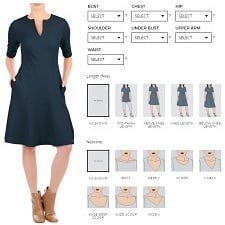 2018 Update: We still like this roundup of clothing brands for the curvy professional, but if you're a busty professional, you may also want to check out some of our other content, including our most recent roundup of the best lingerie to buy at Nordstrom.
Are there any workwear brands that cater to the professional curvy woman? Reader V wonders…
I'm not plus size – but I am curvy. As in, I hate most clothing stores as I actually can't fit one size across my boobs but look matronly the next size up. I live in the UK and have recently discovered Pepperberry as a revelation (extra size options for boobs!), but the stuff does veer on the casual side (and the fabrics aren't always the best). Any other brands catering for the professional curvy girl or is it just getting tailoring?
Interesting question, V! As someone who's always been large of chest, we've talked a lot about workwear for the curvy woman — from curve-friendly blazers to bespoke dresses to blouses for the busty.  We haven't done a roundup recently, though, so let's take a look.  (And Reader V, consider yourself lucky to be in the UK — I've always found there to be a ton of great options there!) Pictured: an eShakti dress with tons of customizable options; it starts at $69.95. 
Some great brands and online shops to note:
Those are the brands that I know about — ladies, do you know of any others?  For those of you who are curvy but not plus size, what are your favorite "regular" brands?  Any tricks or tips, either for sizing, shopping, or tailoring?  
—————
N.B. These substantive posts are intended to be a source of community comment on a particular topic, which readers can browse through without having to sift out a lot of unrelated comments. And so, although of course we highly value all comments by our readers, we're going to ask you to please keep your comments on topic; threadjacks will be deleted at our sole discretion and convenience. Thank you for your understanding!