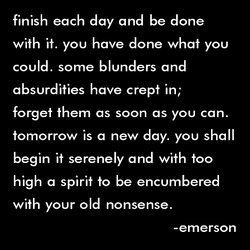 I've gotten a few requests lately to address "career hiccups" — how to deal with failing the bar, being awkward with coworkers, making a huge mistake — and I think this is a great question. So: let's discuss.
For my $.02, I think that YOU are the biggest hurdle to get over after a career hiccup. 
You can say the right thing in the moment and after the fact, and coworkers either accept you or they don't — but until you forgive yourself you'll never be at the top of your game again. I remember a time in my career when I started a list of all the screw-ups I'd made, slight or otherwise. As in, an Excel spreadsheet (because that's how I roll). And you can sit there and say, objectively, "Kat, that is crazy," but in the moment it made perfect sense to me. Let's remember everything I ever did wrong, in a sort-able chart! (Let's just say this idea didn't work out for the best.) One of the quotes I think of often is from Eleanor Roosevelt: "You wouldn't worry so much about what others think of you if you realized how seldom they do." I think, for most people, your mistakes leave their mind once the issue is resolved. If someone else is dwelling on one of your mistakes, the best way to get over it is to do better and show improvement — which is hard to do when you're still apologizing for and punishing yourself for something in the past. Another great quote, this time from Emerson — I have the
magnet
form of this on the front of my fridge: "Finish each day and be done with it. You have done what you could; some blunders and absurdities have crept in; forget them as soon as you can. Tomorrow is a new day; you shall begin it serenely and with too high a spirit to be encumbered with your old nonsense."
Readers, how have you gotten over career hiccups in the past? Have you ever worked with someone who had a career hiccup — how did it affect your opinion of them, and how did they regain your good graces? (Have any other favorite quotes to get you through the rough times?) 
Psst: we've talked about the
imposter syndrome
before, as well as when
low self esteem affects your career
.
—————
N.B. These substantive posts are intended to be a source of community comment on a particular topic, which readers can browse through without having to sift out a lot of unrelated comments. And so, although of course we highly value all comments by our readers, we're going to ask you to please keep your comments on topic;
threadjacks will be deleted at our sole discretion and convenience.
Thank you for your understanding!