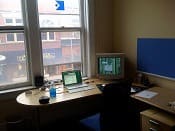 If you could pick any office, which would you choose? What factors would help you choose the best office? Reader C wonders…
I'm thrilled to have accepted a new job! I'm an attorney in my late 20s making a lateral move to a mid-size boutique firm after five years with my current shop. Of all the things on my to do list, one is really stumping me.

In discussion with the office manager of my new firm-to-be, we arranged a day for me to come by in a week to deal with paperwork, etc. before I start. She told me I could pick my office that day, so it could be set up for me. I said, "Great!" Then I hung up the phone and thought, "What?"

Other than the obviously draw of bigger + more light — what should I think about or ask when I get to choose my own office? As a luxury I didn't have at my first job out of law school, it feels like an opportunity that might (but not necessarily will) be seen as a strategic choice. There will be associates both senior and junior to me, and I'd hate to unwittingly end up in territory typically reserved for interns (especially because I look so young). Am I overthinking this?
Aaah, the pressure — I feel for you, Reader C. We've talked about whether location or size matters for offices, as well as how to decorate your first office, and what to keep in your desk, but we haven't explicitly talked about this. Some considerations:
Who will you be working with, and where are they located? You may not know the answer to this (or the answer may be, "everyone!"), in which case, skip to the next question. If, however, you have a specific practice area or niche, there may be at least one or two likely people who you'll be working with all the time. I would suggest discreetly finding out where their offices are before you go. This gives you more information; the next part of the question is whether you want to be near them, or far from them. Speaking as an introvert who hates to be bugged in the middle of a thought, I'd rather be a half a hallway away from someone I work with often rather than right next door — but being on another floor would feel like I was "hiding" in my office.
If you want to make partner at the firm, who will advance your career? Finding sponsors and mentors is only part of the game — the other part is making a name for yourself with the actual decision makers. At my old firm there was a very small Executive Committee that ultimately made hiring/firing decisions, even though there were 70+ partners. If I were trying to make partner, I'd try to choose an office somewhere visible to a member of that committee, and use it as an easy way to get to know him or her.
Of course, visibility has its pluses and its minuses — if you are punctuality challenged and tend to arrive late, or hope to leave on the "early" side a lot (even if you plan to work from home), you may want an office in a less visible location (and then just try to make yourself visible and known to the Powers That Be otherwise in the course of your day).
After factoring in these job considerations, I'd ask myself the major questions — which direction does the building face; do you want morning or afternoon light; does one office smell (or is it located somewhere potentially smelly, such as near the kitchen); can you immediately tell that one office is located next to a screamer — and so forth. If you see five offices and one of them is much, much bigger than the rest and vacant, I would wonder what the catch was, to be honest. Finally, I'd ask myself what I needed to reuse pieces of existing decor I already owned — if you have a huge painting, you need a large blank wall. If you have a couch, you need a long wall not near a filing cabinet — etc., etc.
Readers, how about you — if you could choose any office, which would you choose? What factors would you consider?
Pictured: New office, originally uploaded to Flickr by Michael Kumm.
This post contains affiliate links and Corporette® may earn commissions for purchases made through links in this post. For more details see here. Thank you so much for your support!
We are a participant in the Amazon Services LLC Associates Program, an affiliate advertising program designed to provide a means for us to earn fees by linking to Amazon.com and affiliated sites.
Workwear sales of note for 3.24.23:
Some of our latest posts here at Corporette…
And some of our latest threadjacks here at Corporette (reader questions and commentary) — see more here!