I've shared some of my favorite online shopping tools with you already (Shop It To Me's addictive emails (also new: their sleek new iPad/iPhone app), Shopping Notes, and ShopSense) but I don't think I've written a few words on one of my favorite newish shopping tools: Hukkster.
Basically, you set up an account, and download a bookmarklet to your web browser.  Then, as you go about your online travels, when you see a product you really like, you click the bookmarklet, and (after you sign in), you get a dialog (pictured below) asking you what size, what color, and what level of sale you want to know about ("on sale," 25%, 50%).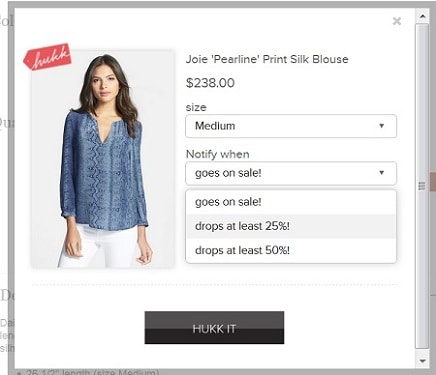 Then, they send you an email if/when your size/color is on sale.
The only downsides I've seen are that a) sometimes you have to go in and "clear out" some of your old Hukks, and b) sometimes they lose the picture (for example, this lovely Joie top went on sale this morning and when I got the notification email it had no picture so I didn't know what they were talking about), but there are worse problems to have for both of them.
As I've said before, I almost never pay full price for things, so this is great for stalking them until they hit a price I prefer.
Readers, do you have any favorite new shopping tools?  (In general, is there any tool that makes your life easier that you think should be featured in our semi-regular Tools of the Trade column?)