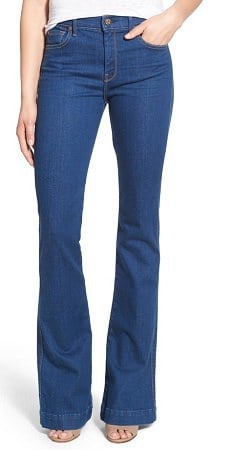 We stirred up quite a bit of controversy last week when one of our readers asked us what to wear to Sunday brunch at her partner's house. We suggested trouser jeans and a blazer, raising eyebrows and bringing forth vehement disagreement from some of our readers, who insisted that trouser jeans were not appropriate for brunch with the partner.*
We then decided to poll everyone to see when, exactly, jeans were appropriate. As always, the poll is still open, but from the initial results, readers think jeans are appropriate if…:
You're invited to a barbecue at the boss's house – 79%
You're in the office on the weekend, working directly with the boss – 72%  (We actually gave specific suggestions for this situation a while ago — that post is here)
You're invited to an outing where activities might take place (boating, golfing) – 66%
You're traveling for an extended period of time with the boss, and meeting at a non-office space (hotel, restaurant) – 52%
Only 5% said that jeans were never appropriate if you'd be near the boss, and only 1% said that jeans were never appropriate, period. (Funnily enough, we've been to barbecues at the boss's place where tents were set up and there was a lobster bake on — if it's that kind of barbecue we'd actually recommend wearing trousers or a dress (assuming it's all work people).
* We have been procrastinating writing this post all day because we do not like admitting this, but:  Fine. You were right, and we were wrong. Hmmn, that's not quite as gracious-sounding as we'd planned. In all seriousness, this is one of the reasons we started the blog — to flesh out the confines of what is and is not appropriate for young, intelligent women in traditionalist professions — and we're so glad to see Corporette turn into a forum for that.
Pictured: 7 For All Mankind® High Rise Flare Trouser Jeans, $189 at Nordstrom.