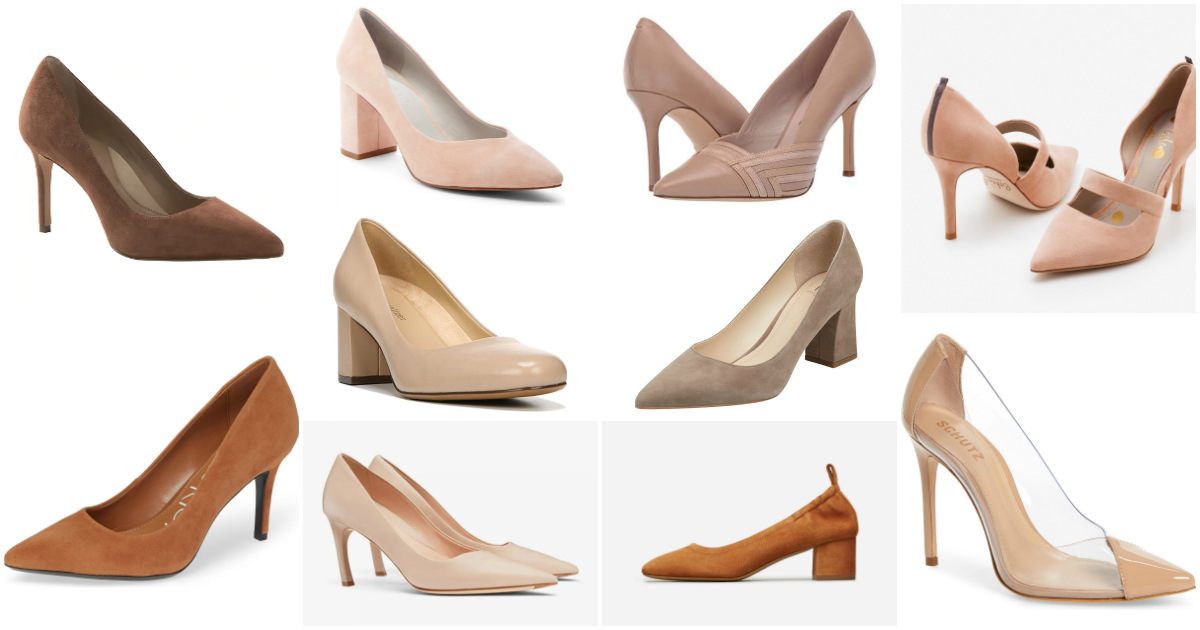 Sure, we all know what wardrobe essentials for work professional women are supposed to have in their closets, but if you're buying one for the first time or replacing one you've worn into the ground, it can be a pain to find exactly the right incarnation in stores. In "The Hunt," we search the stores for a basic item that every woman should have.
Ah, springtime — as we all get ready to pull out our spring-y whites and pastels, it's time for our annual roundup of nude heels for work. I'm pleased to report that the selection of stylish skin tone pumps in 2019 is vastly improved from what it was even five years ago — there are a TON of brands really focusing on offering skin tone shoes for everyone, including Target, Naturalizer, Louboutin, Rebecca Allen, Nubian Skin, and House No. 3028.
Of course, it should be noted, there's nothing wrong with wearing a shade that doesn't match your skin tone if you just happen to like the particular shade. Readers, what are your thoughts — are you on the hunt for stylish skin tone pumps for work right now, or do you have a favorite from previous years? (Does anyone have thoughts on pantyhose and skin tone pumps?)
This post contains affiliate links and Corporette® may earn commissions for purchases made through links in this post. For more details see here. Thank you so much for your support!

Target's line, A New Day, offers an impressive six shades of nude — huzzah! (Other brands that are focusing on offering a wide range of skin tones include Naturalizer, Louboutin, Rebecca Allen, and Nubian Skin.) The pictured shoes are the color "Cocoa" and are $29.99, available in regular and wide widths sizes 5-12.

I love the little details here — particularly the asymmetric cap toe, which adds not only a dose of style but also makes me think the shoe might last a bit longer. I also love the cone heel, which feels a bit avant-garde — and a low heel never hurts. (We've rounded up other low heels in the bulleted list at top; there's also this lovely d'Orsay option from Sole Society for $60.) The pictured shoe is on sale for $70.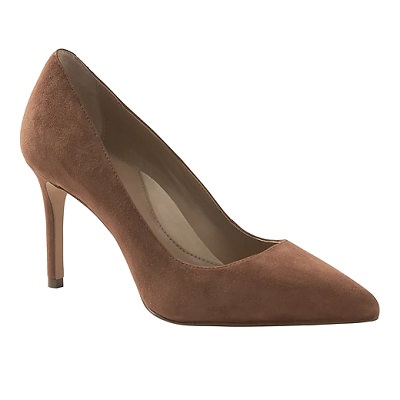 Not only is Banana Republic offering a TON of skin tone shades this season, they're also promising 18 hours of comfort. Nice! (Shades offered include deep brown suede, chestnut brown suede, biscotti suede, beige leather, and cool beige patent.)
It's great to see that they come in slightly extended sizes (5-12), and, being Banana Republic, there's sure to be a 40% or 50% off sale soon. The shoe is $118 full price.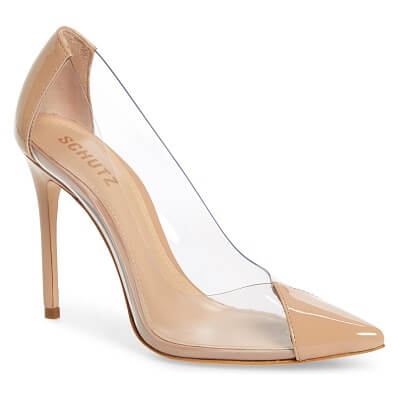 Know your office before trying the transparent trend! It is no longer just a budget option and can be found in the splurge end of shoes — so if you work in a creative, casual office, this shoe might be appropriate. But again, know your office before trying this 4″ heel from Schutz, on sale at Nordstrom for $116.
They also have a neon option that's kind of awesome, as well as a lower version of the beige/transparent pump.

Boden always has darling shoes, and these are no different if this shade of pinky beige is calling your name. I like the racing stripe detail on the heel of the shoe, and I always like a little bit of a strap. These are $180-$190 and come in other colors, including a very happy yellow.

I don't think we've yet discussed MM.LaFleur's new line of shoes — what say you, ladies? I know some people were disappointed that the shoes came at such a high price point (these pumps are $365), but that feels right to me — in line with Stuart Weitzman, Sarah Jane Parker, and Cole Haan prices, yet lower than Sarah Flint and other designer-y options like Choo and Manolo.
Some other fun ones we found, pictured at the very top and here: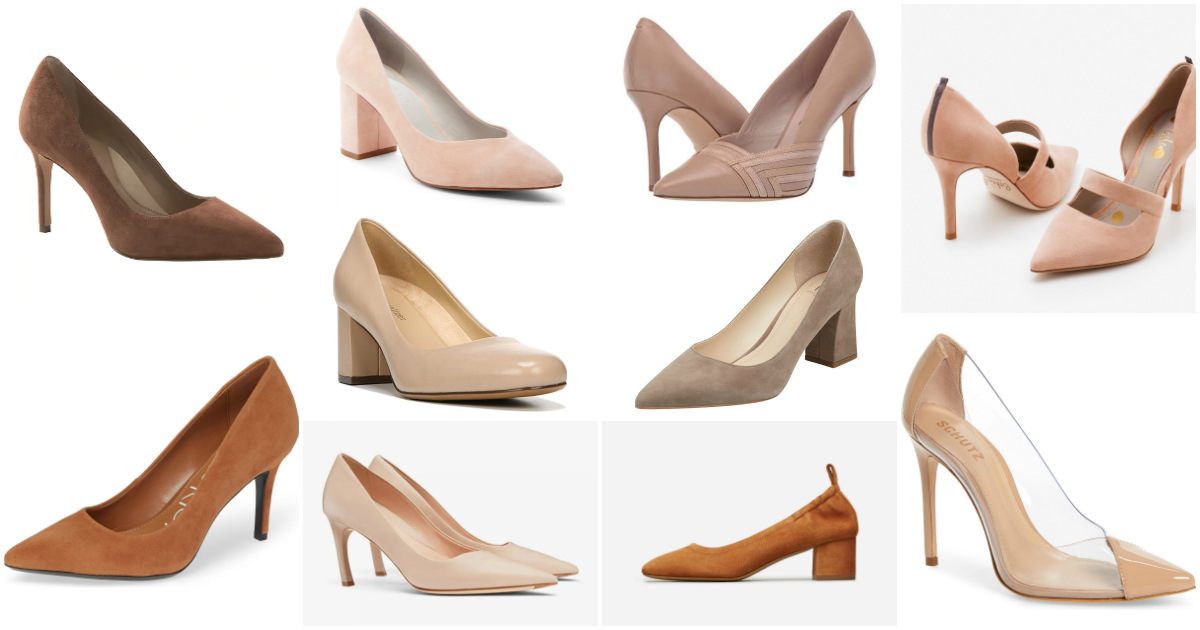 top row: dark brown / pointy-toed pink block heel / beige pointy-toed stiletto / pink Mary Jane heels
row two: round-toe block heel / pointy-toe mocha block heel
row three: caramel stiletto / beige stilettos / caramel block heel / transparent stiletto
Like this feature? Check out other recent installments! Curious about older editions of this roundup? Check them out here: 2018, 2017, 2016, 2015, 2014, 2013, 2011, 2011, 2009, 2008 (awww, just a few weeks after the blog was born).
This post contains affiliate links and Corporette® may earn commissions for purchases made through links in this post. For more details see here. Thank you so much for your support!