2020 Update: Cardigans are still a workwear classic, but you may want to check out our Guide to Workwear Essentials, or our 2019 roundup of the best sweater jackets for the office.
Someone recently wrote to us, flummoxed over how to wear a cardigan. We looove cardigans, particularly in the summer, and so we thought we'd do a quick and dirty guide to cardigans…
This post contains affiliate links and Corporette® may earn commissions for purchases made through links in this post. For more details see here. Thank you so much for your support!

Pictured above, great sweater jackets for the office as of 2022: cream / navy / black / burgundy / cropped black (this reader favorite is back in stock also, and Kat loves this one!)
Update: Some of our other favorite cardigans for lounging as of 2021 include this Zella wrap and this circle cardigan — we've rounded up more below!

1. Banded. These cardigans have some banding at the bottom and (usually) on the sleeves, which makes their shape a bit blousy or boxy. They can come with a matching shell for a twinset look, or be worn by themselves with, for example, a button-front shirt or blouse, or a nice tank or tee (such as the cardi pictured, Neon cotton bling-button cardigan, available at JCrew.com for $49). Because these kinds of cardis have their own shape, they're less than ideal for wearing with dresses, and, for our $.02, best with pants. If the twinset is very boxy (think a more Jackie O cut), then they can be worn over your shoulders, almost like a cape (we're still searching for a good picture). Other examples: Patterson J. Kincaid 'Luanna' Cardigan (available at Nordstrom for $88), Banana Republic Long sleeve silk-back cardigan ($70), or Old Navy Womens Pointelle-Trim Cardigans ($26.59).
2. Normal — not banded. For our $.02, these are the "normal" cardigans we stock up on — they hit at mid-hip, and should be fitted to be somewhat tight to your body (we prefer silk sweaters because they keep their shape better than cotton, but polyester blends can also be good). They may come as a v-neck, a split-neck, a scoopneck, or a crewneck. They're often sold as twinsets (such as the Talbots set pictured, Refined cardigan sweater ($69) — also look for brands like August Silk at spots like Filene's and TJ Maxx), but the cardigan can be worn with dresses, skirts, and pants. If you button the cardigan it can be worn as a sweater by itself (tip: wear a cami beneath it in case the buttons gape), worn under a blazer, or even belted. Worn open, they can be layered on top of tees, tanks, or button-front shirts. Michelle Obama's closed some of her cardigans with a brooch, which can be a great way to add personality. These cardigans are perfect in the summer because they're so versatile and are super easy to transport — just button the top button and the bottom button, and wear it over your shoulders while commuting. (This is easier if the sleeves are full, not three-quarter length.) They're great to add contrasting color, to mute a loud pattern in a dress or blouse, or add a color to a drab ensemble. While they don't add a lot of authority the way a blazer does, they do add warmth, and are a perfectly acceptable look for the office. Other examples: Miu Miu Cashmere and silk-blend cardigan (available at Net-A-Porter.com for $450), Cashmere Georgette Trim Cardigan (available at Anne Klein for $118), Pink Tartan Pima Cotton Cable Knit Cardigan (available at SmartBargains for $56), or Old Navy Womens Floral-Print Cardigans ($26.50).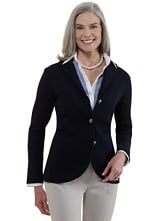 3. Structured, shrunken. This is one of our favorite kinds of cardigans: the structured cardigan that might look a little shrunken. These are almost like a blazer, but made out of a sweater material instead — they still convey authority, but in a friendly way. We love to wear ours with dresses or skirts (A-line or straight), or with wide trousers. (On the weekends, we love to wear them with a longish, untucked top and jeans.) These are best kept at the office or worn on a day when the temperature is going to be pretty constant — they can be a pain to transport because they're too bulky to put in your bag, and they're really not intended for wearing over your shoulders. Pictured: Merino Wool Full Milano Jacket, available at Brooks Brothers for $144 (was $288). Other examples: T by Alexander Wang Knit Blazer (available at Nordstrom for $165), Quotation: 525 America Silver Button Knit Jacket (available at Bloomingdale's for $59).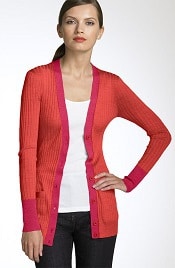 4. Boyfriend cardi. This is also one of our favorites — these are long cardigans that might look or feel a bit like a doctor's coat. Depending on your outfit, they can be great paired with low-volume bottoms like straight pants, pencil skirts, and simple sheaths. We like pairing them with a long necklace, as well. A note on belts — these may come with a belt, which, if you don't like belts, you can just tie behind the sweater (this also gives it a more "nipped in" look than the sweater may have otherwise). If you prefer belts, though, a skinny belt or a wide belt can work with these kinds of sweaters. Pictured: MARC BY MARC JACOBS 'Ainslie' Cardigan (available at Nordstrom for $198). Other examples: Marc by Marc Jacobs Wushishi Sweater (available at ShopBop for $160 (was $228)), Tory Burch 'Simone' Merino Wool Cardigan (available at Nordstrom for $225).
5. Draped cardi. These are looser, and have more volume than a boyfriend cardi, but are just as long. These might be a little too casual for some offices (at least, worn open), but they can have a great, bloused look when paired with a wide belt. Because there's so much volume with the cardigan, you want to keep your other pieces as sleek as possible. Pictured: Rebecca Taylor Waterfall Cardigan(available at ShopBop for $350). Other examples: Flyaway Cardigan (available at Anne Klein for $66 (was $89), Open Front Cardigan (available at Ann Taylor for $68).
6. The Shrug. This is the other major kind of sweater that, we think, every woman should have in her closet: the shrug. These aren't great for the office, if only because they're so great for after hours. These are short, cropped sweaters that, in theory, only cover your arms and your shoulders. Because your back can be exposed (depending on the cut of your dress and the cardigan), they can be a little sexy — it's also a nice way to take a simple sheath dress to an after-dinner party, by adding a slightly fancy shrug (check out Brianna Beaded Crochet Shrug, available at Saks for $396). Pictured: Open Front Cardigan (available at Anne Klein for $51). Another example: DKNY Linen Shrug (available at ShopBop for $125).
Okay, ladies — those are our 6 must-have cardigans and how we wear them. What are yours? Did we miss any major ones?