2017 Update: We still stand by this advice about overachieving women who drink too much, but you may also want to check out our more recent discussion of women lawyers and drinking.
As we mentioned on Friday, we've been curious about the recent story on Gothamist, "Overachieving Women Will Drink You Under the Table," in part because so many of you "liked" the story once we posted it to Facebook (and amazingly, not one of the six is one of our drinking buddies!)
Looking more closely at the reports, the study notes that "The more educated women are, the more likely they are to drink alcohol on most days and to report having problems due to their drinking patterns . . . . The better-educated appear to be the ones who engage the most in problematic patterns of alcohol consumption."  We have a few thoughts on this, which we'll try to put in a cohesive order, but we're primarily curious to hear from you:  1)  Do you drink to excess? 2)  Why do you think that is?  3a) What does a typical night of drinking look like for you, during a "school night" and during a weekend night?  (3b: Any favorite cocktails, types or brands of wine, liquor or beer?  Fine, and 3c:  what do you toast to?)  4) On the more serious side — have you ever worried that you drink too much? What have you done about it? (For right now, let's just talk about alcohol, although we suspect a thread on prescription drugs might also be in order.) (Pictured:  New York City, 17 May 08, originally uploaded to Flickr by flickr4jazz.)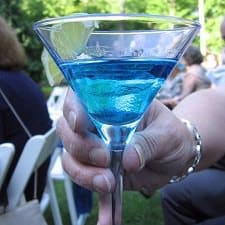 First, on drinking during one's downtime (weekends, evenings, vacations, whatever): We've been mulling it over in our heads since reading the article, in large part because — why yes! — this author (and most of her overachieving friends, particularly those from law school) have been known to overindulge here or there during personal time. Is it because we are stressed out from our day jobs and need help unwinding? Is it because we drink to "reward" ourselves for all of our hard work during the week? As one of our commenters on the Friday post wondered, is it a chicken and egg syndrome — are women who are more likely to overindulge also more likely to become overachievers? Is there a competitive aspect to drinking — if we are competitive people, are we more likely to drink competitively as well? How much does money play into it? For example: if you go to nicer bars, a) there are often more options for specialized cocktails (as seen by the mixology craze in NYC), and b) if you are served better liquor, there are less repercussions — for example, a cheap gold-colored tequila will presumably leave you with a much worse hangover than if you're drinking a quality clear-colored tequila, like Patron Silver — which in turn means that, without the hangover to "teach" you not to drink so much, you continue to do it. (Pictured at right:  the signature cocktail I served after my wedding ceremony.)
(We suspect the actual "answer" to this phenomenon is probably a very unsexy, sensical one: women who are "overachievers" frequently have children later in life, which means that they have a) more disposable income and b) less real responsibility. (This would also mean that they've never had to take a "break" from drinking, as required by that whole, you know, pregnancy and breastfeeding thing.)  This was noted by the authors of the study, as well.)
Second, on drinking at work functions: Obviously, one should not drink heavily drink at work functions. That doesn't mean you shouldn't drink — in fact, as commenters noted on the Friday post, not drinking often raises more eyebrows than drinking does.  (We agree with the commenters:  please do not be that person who asks people: why aren't you drinking? Also, ladies who don't drink — any tips or experiences you'd like to share re: not drinking?)  Which, we suppose, means that you are best advised to get a glass — of anything — and hold onto it throughout the night. (Or, at the very least, practice a 1:1 rule — one glass of wine/liquor, one glass of water or soda.)  (While we're giving advice:  please, please do not post pictures of yourself drunk on Facebook. Do not let your friends post pictures of you drunk.  Yesssss, sure, you look adorable and yessss, sure, it's hilarious.  Strangely enough, though, that prospective employer or the employer looking to make cuts doesn't think so.)
Finally, on drinking at the office: I remember being very surprised, years ago, when a former colleague casually admitted to regularly  drinking at her office desk, in that "home stretch" from 7pm – quittin' time.  I don't think she drank to excess, but still, it really shocked me — perhaps because I had always had a rule against drinking alone, but perhaps because she was so successful and well-regarded at the job.  Obviously, this kind of thing happened all the time in the Mad Men era — but does it still happen now?  What has your experience been?
Social media images of blue martini: Katfry LLC, all rights reserved.