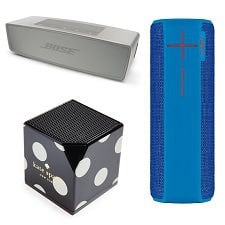 This is another entry in our very occasional feature on household items — see our previous discussions on the best sheets, best towels, indispensable kitchen items, and more.
Ladies, what are your favorite portable speakers — whether for use at your office, around your home, or in the great outdoors? I've been on the hunt for a while now and thought I'd pose the question to the group. I recently bought a
very affordable one
that was recommended by the usual place I go to for these things, 
The Wirecutter
. Not only was the sound horrible, though (and I am not an audiophile), but my toddler managed to break it within about two weeks. (The
Amazon Echo
 is our default kitchen speaker, but it requires an outlet. I'm not sure I feel strongly enough about Alexa to get Amazon's more portable version, the
Tap
.) After my "my cheap speaker sounded lousy and then broke" experience, I'm open to spending more on one but am hesitant because I feel like I ought to have a greater plan in mind. One of my friends did this — he and his wife bought a Sonos speaker pretty much every year for their big holiday present to themselves; after a few years they had a multi-room system. (Do note that Sonos speakers require WiFi, so if you hope to use them on a picnic or some such, you may be out of luck.)
So let's hear it, ladies — which are your favorite portable speakers?
Are they part of a greater home system or plan, or did you buy yours for some other reason (like the super-cute and affordable Kate Spade polka-dot speaker, pictured)? (This should be a separate post entirely, I suppose, but does anyone have strong opinions on their headphones or earphones? I just bought my husband these 
Bose earphones
for Fathers' Day.)
Pictured above, clockwise: SoundLink® Mini II Bluetooth® Speaker / UE BOOM 2 Wireless Bluetooth Speaker / kate spade new york 'le pavillion' Bluetooth® speaker
Further reading:   
Psst: our favorite podcasts for working women, and my favorite songs, for no reason whatsoever.