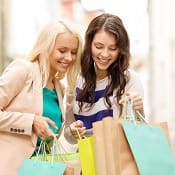 Update: See our latest discussion on the best work clothes for different body types!
Which are the best workwear brands for you if you've got hips — and you're tall? Which brands are best if you're curvy and short? Which brands should the apple check out first? How about suiting brands? Ladies, I got a question from a friend that I am Very Embarrassed to say that I can't answer: she's looking for an interview suit and wanted suggestions for a brand that is "forgiving in the hips and good for tall people."
Hmmn… I mean, we've talked about which stores do bespoke dresses, shirts and blazers . . . we've talked about how work pants should fit — and a LONG time ago we had a conversation about which stores and brands are best for different body types — but it's been far too long. (We've also done guides to the best brands in general for petite workwear, plus-sized workwear, and tall workwear.) So let's discuss. In the comments today, please tell us:
Your body type or body issues (if any): e.g., for me I'd say I need something that accommodates a big bust for sure, and where the cut is ok for a short curvy girl. (I'm 5'4.")
Recent brands OF SUITS you've tried, and what issues (if any) you noticed:
Which brands you think of as YOUR brands in general (for anything other than suits):
Which STYLES within brands you like: If there are repeated styles within the brands (e.g., Theory usually offers the Max pant as well as the Emery pant in suiting fabrics, while Loft has the Julie & Marissa cuts), which specific styles work best for you.
Here's an easy paragraph to cut and paste to kick off the discussion:
My body type or body issues (if any):
Recent brands OF SUITS I've tried, and notes on fit:
Which brands I think of as MY brands in general (for anything other than suits):
Which STYLES within brands I like:
We are a participant in the Amazon Services LLC Associates Program, an affiliate advertising program designed to provide a means for us to earn fees by linking to Amazon.com and affiliated sites.
This post contains affiliate links and Corporette® may earn commissions for purchases made through links in this post. For more details see here. Thank you so much for your support!
Our last real discussion was in 2011 — I found these more recent articles on the web, but I still think the community here will be our own best source. I'll sort through the answers and try to do a nice roundup (hmmn, maybe a graphic) or something.
Further reading:
Ladies, what say you — which brands do you like best for your body type? Copy the bullet points above and let us know in comments!
Pictured: Shutterstock / Syda Productions.