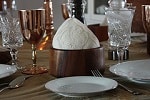 Reader L has a great question about how to show her appreciation for a new secretary who's doing a great job:
I'm a young associate at a new firm and a few times recently, my secretary has helped me put together and file huge motions. Of course such filings are always done up against tight deadlines , so my secretary has stayed late to do this. What's an appropriate way to show her how much I appreciate this? I barely know her and am much younger, so I don't feel comfortable inviting her out to lunch. I rarely take a lunch break anyway. We have coffee, tea, etc. in the office, so bringing her a Starbucks or Dunkin Donuts coffee tomorrow, doesn't seem much of a gesture. I don't want to buy her a gift, I just want to do something thoughtful to show how much I appreciate her help. Any ideas?
This is a great question — I've had older secretaries myself and I know how difficult it can be to strike the right tone! We've shared stories about great support staff, discussed how to use administrative assistants, and talked about what to get secretaries for holidays — but we haven't talked about small gestures of thanks for staffers.
– You're new, she's been helpful — make the time to take her to lunch!  (We've also talked about getting too friendly with your secretary, but one lunch certainly isn't going to do that.)  Make the time for her — this is an important relationship, because a good secretary is like gold (whereas a bad secretary, well, isn't). Actually, this is such an important relationship that I would say that you should take her to lunch (or at least coffee) regardless of whether she's gone out of her way to be helpful or not. (Considering she's been extra helpful, I might take her to a nicer restaurant near your office.)
– As a boss, there's room to debate whether a reward (or even an outward show of appreciation) is appropriate for something that amounts to Just Doing Your Job. That said, a cheerful kind word never hurts.
To be honest, I'm not sure I would do more than a lunch and a kind word.  You could get her a gift card to a local lunch spot for $10 or $20, but it always kind of stinks to put a dollar amount on how much their service meant to you. You could say, "I'll remember this at bonus time!" but that seems in poor taste also. So I'd stay cheerful and appreciative (and I'd definitely get to know her over lunch to help form the relationship). (And definitely make sure to have Administrative Assistant's day on your calendar next month — Wednesday, April 24.)
Readers, how do you show a great secretary you appreciate her (when it isn't bonus time)? Do you have any tips for navigating the first lunch between a younger boss and her older assistant?
(Pictured above: table setting, originally uploaded to Flickr by cdn-pix.)