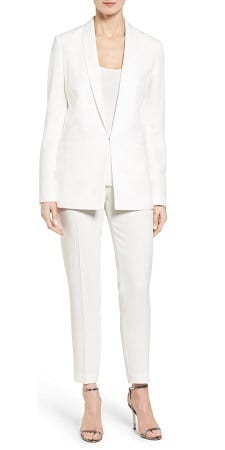 Reader L wrote in to ask about white pants for work — do they make more opaque white pants for work? What are the best tricks and tips for wearing white pants to work? We've talked about how to keep white blouses white — and the best white opaque t-shirts — but we have't talked about white pants in a long while. First, here's reader L's question:
With the beginning of spring and lighter colors I'd love to get a pair of white pants for work. The few I have tried on have been very see-though up top. Do you have any suggestions for white pants or tricks to help with too sheer pants?
First: the old rule is that you aren't supposed to wear white until Memorial Day. So technically, white pants are only for summer, not spring. But I'm seeing them EVERYWHERE this spring (particularly for weekends, with distressed/ripped white skinny jeans) — so they're clearly more popular (to say nothing of all the suffragist connotations with white pantsuits). So let's talk about this: do you wear white pants to work, whether in spring or summer? What rules do you have around "white pants for work," and what tips and tricks do you have to make sure they're not too sheer?