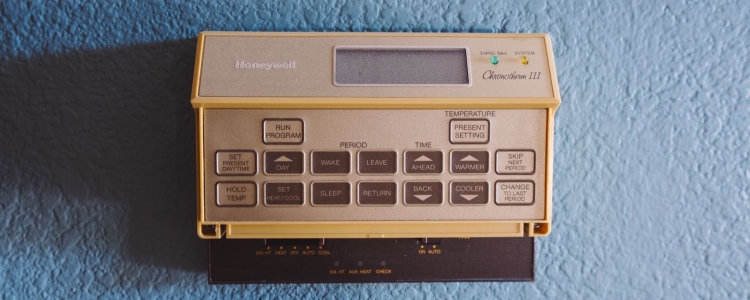 Is there a single solution to making your office temperature more comfortable if big windows make it too cold in the winter and too hot in the summer? Reader A wonders…
I just started as an associate attorney and it's my first time with my very own office! It's so great to have my own four walls. My issue is that one of those walls is actually windows leading to outside, which is great except it makes temperature control a nightmare. Right now, it lets in tons of sun, which makes my office far too hot. I've been told by the person who previously occupied my office that in the winter, she froze because of the massive windows. I'm considering looking into an air conditioner for now, but when winter hits, I'll need a heater. Any idea of a combo unit that I can just switch over when the weather changes? I'd really like to just have one unit, preferably not one that's massive or noisy.
First, congrats on your own office, Reader A! I'm curious to hear what the readers say. We've talked about cold offices and hot offices and how to dress professionally in hot weather and cold weather, but not for dealing with wide temperature discrepancies within a private office like this. Here are my thoughts:
This post contains affiliate links and Corporette® may earn commissions for purchases made through links in this post. For more details see here. Thank you so much for your support!
How to Deal when Your Office Temperature is Too Cold
Layer, layer, layer as you figure out the temperatures. (But please don't get a Snuggy or do this.) When your office is chilly, don't overlook things like lap blankets (one of my favorite uses for wraps!) and — if your office is private enough — I've even worked in my freezing office while wearing a hat and fingerless gloves or USB heated gloves. (I've never tried it, but there is also a USB heated lap blanket!)
Some of our favorite office pashminas as of 2021: black / beige / gray (lighter weight) / lavender ($15!!). If you're looking for more of a ruana jacket, I highly recommend the Brooks Brothers' ones!
Get a heating pad. Readers have sung the praises of heating pads for years now, either to sit on like a heated car seat, or put beneath your desk to toast your feet. As one commenter noted: "Warmer than a space heater, safer than a space heater, quieter than a space heater, and no one will walk by and wonder why you have a blanket on (…which I've done, I get it)." (Any favorite specific brands or products for heating pads, ladies?)
Check with the building before you buy anything. You can get great deals on air conditioners this late in the season, to be sure, but I wouldn't install anything until you talk to the building. If I did buy something for the room, though, I would probably buy a personal heater like a $40ish Vornado, which also has a fan built in so you can use it year round.
Look into window treatments. Again, before an air conditioner, I would look into hanging some different window treatments to deal with the sunlight and the cold from the windows. Now, when we previously talked about office decor and window treatments, a lot of people thought it was a pretty bold move to get drapes for your office — but in this case where you need to insulate the room, I think it can be one of the cheapest and easiest things to do, without the downsides of personal heaters (which may be banned at your office anyway). For example, these $24 Thermalogic drapes at Wayfair only need a curtain rod and then they filter sunlight, help with thermal insulation, and dampen sound. Wayfair, JC Penney, Amazon, and a zillion other places have a ton of these.
How to Deal with an Office Temperature that's Too Hot
Sheath dresses and sleeveless shirts can be great for the office — just know your office well enough to know if you need to throw a jacket or sweater on before you leave your office. (Yes, in some workplaces, bare arms may still be considered unprofessional!)
Some of our favorite sleeveless tops — note that there are no spaghetti straps:
Some of our favorite sleeveless work tops in plus sizes are below: black / blue / white / pink — also check out this collared top and this camisole (but know your office before wearing without a blazer or sweater)!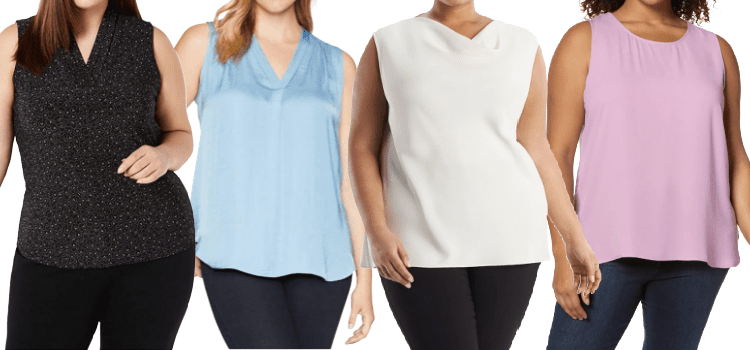 And some of our favorite t-shirts for layering under work looks:

Above, the best women's t-shirts for layering at the office as of 2021: elbow scoop / v-neck / scoop / long-sleeve / elbow (not pictured but also)

Pictured above, some of the best plus-size tees for work: one / two / three / four / five (also this)
Psst: these are some interesting products to help you cool down or stay cool on your commute…

If all else fails: get yourself on a waitlist for a new office, and during inhospitable days in your office, try to be one of those people who works in a conference room, library, or other space at the law firm. After all: not every office is a winner — some have sun problems, some have issues stemming from their placement in the building, such as the smelly office near the kitchen, or one that gets too much noise from a nearby lounge, or even one that gets too many people dropping in with questions because you're near a printer or some other public resource. The most problematic offices inevitably go to the newest hires, such as Reader A. So: possibly just view it as a temporary office, and do what you can in the meantime.
Readers, what are your thoughts — have you had success with regulating temperatures when you're up against a full wall of windows in your private office? Any clever products that I'm forgetting that are likely approved by the Powers That Be?  
2021 updated stock photo via Stencil. Originally pictured: Night at the office, originally uploaded to Flickr by K. Latham.